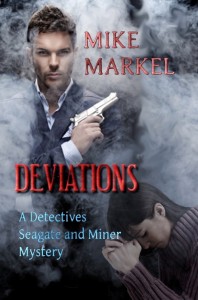 Deviations: A Detectives Seagate and Miner Mystery
by Mike Markel
Genre: mystery/police procedural
Word count: 81,000
Former police detective Karen Seagate is drinking herself to oblivion and having dangerous sex with losers from the bar when the new police chief tracks her down. It seems there were problems with her departure.
A high-profile murder gives Seagate a chance to work as a detective again … but the new chief is one for the rules, and Seagate has too many deviations from official protocol. These deviations might get her fired. They might also get her killed. But she's determined they'll help her find the killer.
This title is available exclusively on Amazon.
Mike, how did you come up with the title for your book? Does it have any special meaning?
I like to use titles that refer to several different characters in the book. Most obviously, "deviations" refers to the police chief's statement to former detective Karen Seagate that he will not tolerate any unacceptable deviations from procedures. But the concept of deviations refers as well to Karen Seagate's current situation and to the mindset of the murderer.
Who was your favorite character and why?
Detective Seagate, my narrator, is my favorite because she is deeply troubled, profane, highly perceptive about others, ungrammatical, completely lacking in self-awareness, and deeply pissed off that someone would do that to the victim.
Does your book have any underlying theme, message, or moral?
My books are moral fables set in a small Montana city. I'll leave it to my readers to see whether they agree.
What would/could a reader or reviewer say about this book that shows they "get" you as an author?
I didn't see that coming.
Give us an excerpted quote from your favorite review of this book:
" . . . compelling page turners full with vivid sense of place, wise-ass and witty characters, well-turned plot, and engaging dialog in stories informed by an understanding of the ways in which we hurt ourselves, heal ourselves, and move on motivated by a belief that everyone deserves what's coming to them . . ."
Where can people learn more about your writing?
http://mikemarkel.com