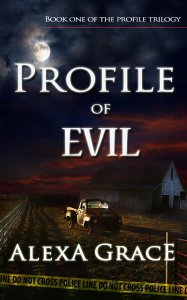 Profile of Evil
by Alexa Grace
Genre: Police Procedural
78,674 words
There's a serial killer in Shawnee County, Indiana, and Sheriff Brody Chase needs to stop him. As the body count rises, Chase discovers the victims had a social networking site in common. If their killer is an online predator, then Chase knows it's only a matter of time before another teen is abducted, tortured, and murdered. He calls in former FBI profiler Carly Stone for assistance.
The clues, and Stone's profile, point to someone close to law enforcement – perhaps even someone they know. When the latest girl goes missing, Sheriff Chase and his staff will have to use all their skills to stop the most terrifying killer of their careers.
Profile of Evil is available on Amazon.com, Smashwords, Amazon UK, and other online retailers.
Alexa, how did you come up with the title for your book? Does it have any special meaning?
Profiler Carly Stone has seen her share of evil when she worked as a special agent for the FBI. But nothing prepared her for the vicious predator who lures preteen girls to their deaths through the Internet. The analysis Carly provides to law enforcement is a "profile of evil."

Who was your most challenging character and why?
The sexual sadist, serial killer Jim Ryder has been the most challenging to write because his character required so much research. I was determined that his character, behaviors, and actions be credible so I did extensive research to learn the behaviors and motivations of sexual sadist serial killers.
Does your book have any underlying theme, message, or moral? 
My message in PROFILE OF EVIL is that the online world can be a very dangerous one for kids whose parents are unaware of their online activities. There are predators online who have perfected methods of meeting and seducing underage adolescents through chat rooms, instant messages, email, and phone calls.
What would/could a reader or reviewer say about this book that shows they "get" you as an author?
"Alexa Grace has found the epitome of evil and wrote it down. It isn't just a great read of true evil but of the real dangers of the social media when children are left to their own devices. It also brings to life the very true reality of bullying among kids."
Give us an excerpted quote from your favorite review of this book:
"It will keep you on the edge of your seat up all night reading!"
Where can people learn more about your writing?
http://www.authoralexagrace.com