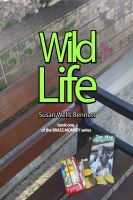 Susan Wells Bennett's latest book, Wild Life, which focuses on the intersecting lives of a bitter retiree, an aging actress, a recent widow, and a gay bartender, is the first in her Brass Monkey series. Together, they find acceptance, love, and danger. You can read Annarita Guarnieri's review.
The second book, Charmed Life, focuses on Sondra Lane, an aging actress who has spent her life on the verge of success, but never quite achieved it. Charmed Life will be released in November 2011.
Congratulations, Susan!