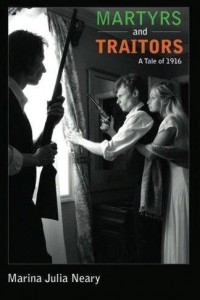 Kidnapped and held at gunpoint by his former IRB comrades, Bulmer Hobson, the misunderstood antihero of 1916, denounces the ill-fated Easter Rising he had tried to prevent. While his captors joke about shooting him and dumping his body on the railroad tracks, his terrified fiancee roams the chaos-ravaged city in search of him. Fifteen years of political rivalry, international conspiracy, botched love affairs, and taunting promises of glory culminate in a bloody showdown. Once branded 'the most dangerous man in Ireland' by the police, Hobson is about to be deleted from history. Based on historical accounts, Martyrs and Traitors is an intimate glance into the conflicted and shattered heart of Ireland's discredited patriot.
"Neary's latest imaginative foray into historical fiction introduces us to a broad tapestry of fighters for Irish freedom. This is not your usual recounting of the Rebellion. Here you will find Quakers and Countesses, actresses and aristocrats—all of whom are bound together by the desire to define their nation on its own terms." ~Meghan Walsh, Managing Editor of The Recorder
Learn more at the website.