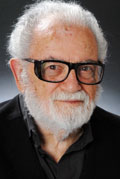 [Note: I often bring a pocketful of snark to these interviews and sprinkle some around. I won't be doing that in this interview because Jasha M. Levi is a man who has met and conquered greater challenges than most of us, and he is deserving of our full respect, admiration, and gratitude. ]
Author Jasha Levi says he wanted to be a novelist but as his background is journalism he feels he is better at non-fiction. Still, where there is a story to be written, there must be inspiration. Jasha says he used to find his in some hot political controversy, such as the rift between Yugoslavia and Stalin way back in 1948, or the Rajk pretend-trial in Hungary in 1950.
"My last two books are memoirs — The Last Exile was a kind of reportage about so many things that happened to me during the rise of Hitler in Europe, confinement as civilian internee of war in Italy 1941-43, a Jewish fugitive with false papers in Rome for nine months until the Allies liberated it, my career starting at age 24, as foreign editor, radio commentator and international correspondent until in 1956 I took asylum in the US in protest over Tito's refusal to condemn the invasion of Hungary," he says.
Jasha rose from an penniless immigrant to become the executive director of a national non-profit organization for the visually impaired. Later, as Associate Director of Recording for the Blind (RFB), he introduced raised line drawings to accompany recorded textbooks and developed a 4-track, half speed system for economical cassette recording which would also be used by the Library of Congress for the next 25 years, until digital recording became the most economic means of book delivery. He was also the youngest correspondent from the Paris Peace Conference.
Jasha says, "When I retired, 40 years after my war ended, my inspiration was my life and the miracle of survival."
He worked for about 20 years on his first memoir, The Last Exile, finally publishing it in 2009. Two years later, he  published a political memoir, in which he posits, "The Italians, while their government was an ally of Hitler's, didn't lose their soul and their Buona Gente prevailed over the Evil ones." Buona Gente is Italian for the good people.
Jasha says at times, he is blocked by his own reluctance to look deeper and reveal his inner thoughts, the process through which he made the decisions in his life. "The editor of my last book changed that by insisting that I explain myself, justify and elaborate on my conclusions. The thoughts flow best at night when I get up because of cramps and am afraid to go back to bed and have them continue."
Jasha finds it outrageous that there is a whole army of people who stand guard between authors and the public, denying a hearing to independent authors. "How are they ever to get a market test? Who appoints these arrogant tyrants who often don't show a basic civil courtesy of replying to a query? I think they will become obsolete as more indie writers find access to print and self-publishing loses the stigma of vanity editions. As a matter of fact, with my editor, I have started work on establishing a mechanism of evaluating independent works and giving out awards for various categories of books. The awards would parallel those given by mainstream publishing. We hope to gain the cooperation of the legitimate trade houses."
Jasha advises aspiring writers to believe in themselves, bounce ideas off anyone in sight, ask for a critique rather than praise, and have at least another pair of eyes edit what they write.
Jasha's latest book is Requiem for a Country :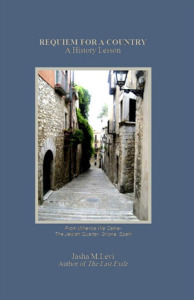 A History Lesson is a book of survival through the turmoil of the last 90 years, from 1921 in Sarajevo through WWII, Cold War and exile, all the way to 2011 in the US.
It doesn't shrink from controversy whether about anti-semitism and Israel, or ethnic tolerance in spite of hatreds spread by organized religions, and on the role of Italians in saving thousand of Jews from the Nazis while as many were rounded up and perished there from 1943 to the end of WWII.
Requiem for a Country is available on Amazon.com.
Be sure to check out Jasha's  website and blog. You can also find him on Facebook.  [subscribe2]