Today we're pleased to announce the winner of the second weekly "Writing Exercise with a Twist" here at Indies Unlimited.
The winning entry is rewarded with a special feature here today (the pure prestige alone of which cannot even be measured in monetary terms – really), and a place in our collection of winners which will be published as an e-book at year end.
Unfortunately there were some voting irregularities addressed here. After adjusting accordingly, the seven entrants received a total of 44 votes, and claiming nearly 70% of those, the winner is: Contestant #6– Dave Antrobus.
Thank you to everyone who participated – excellent entries! Now, without further ado, (trumpet flourish) here's the winning entry by David Antrobus: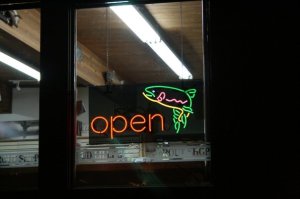 Insomnia
by David Antrobus
I don't recall seeing it, but I must have seen it. Something kept me awake half the night, after all. Then some dark urge made me return to it.
Bud Lilly's Trout Shop.
A fishmonger's, you'd think. And for the most part, you'd be right. But you would also be wrong.
Here on this quiet street, post-revelry and pre-dawn, I stood before that window once more. Odd that it should display its neon welcome at this godforsaken hour. And that such cold fluorescence still burned within.
Suddenly afraid, I turned away, wishing for sunrise, for even the spartan brevity of my home; anything but this suspended place masquerading as a city street.
Nonetheless, as if compelled, my gaze returned to the window. In time to see a flash of silver and an appalling face. A hideous sweating man was butchering someone with the efficient strokes of a squalid Samurai, amputating the limbs of his screaming victim. My blood froze. The night butcher propped up the dying man, whose rolling eyes and sagging lips resembled nothing less than a helpless trout… dressing his limbless torso and placing him, bleeding and faintly sobbing, on the shaved ice of the display beside the other staring fish.
The attacker looked up. Implacable, euphoric, he grinned a terrible grin, lifted his awful, dripping blade and pointed at it. Then pointed back at me and winked.
Then I remembered what I had seen earlier: my own name on an empty section of that same display, waiting.
*      *      *      *      *
The photograph used in the challenge was shot in October 2008 at the world famous "Bud Lilly's Trout Shop" in West Yellowstone, Idaho. After spending the day surrounded by the amazing natural imagery of Yellowstone National Park, I was drawn to the abrupt contrast of the neon sign.
[subscribe2]