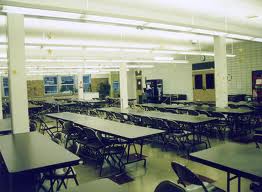 When I was in high school, lunch was where you found out where you fit in. I fit in with the quiet, punk rocker kids who smoked cigarettes instead of eating. Open campus, FTW! I couldn't wait to get off campus. And not just for the nicotine. I hated high school. And I hated the scene in the cafeteria. Cliques and pods of douchebags and douchebaguettes. So, it is much to my chagrin that I am forced to come to terms with the fact that twitter has become my high school cafeteria.
Don't get me wrong. There are still some things I like about twitter. And maybe it's just me, but I seem to have fallen in with a crowd of morons. I am not referring to my fellow writers and friends of course. I like you guys. I think the problem is that I just randomly follow anyone who wants to follow me. But lately, I get the distinct impression that some of them are going to ask me to buy them beer.
There are also five or so guys on twitter that all tweet the same thing. Verbatim. I am not sure who they are plagiarizing…many degrees of separation. Probably Benjamin Franklin. Although, I don't know how much he knew about 'getting crunk'.
I don't smoke anymore. I quit over ten years ago. But when I visit twitter lately, I get an intense desire to climb into my old friend Luke's Mercury Cougar and go sit by the ocean and smoke enough cigarettes to ensure that I will be slightly sick to my stomach for the rest of the day.
There are people on twitter who crack me up. There are people who lead me towards genuinely valuable information. They are the minority. I don't know who I followed that got me into this mess, but I want out. I don't want to get blunted. I don't want to follow some weird ass entity that will guarantee me 300 more followers. I approached twitter with open arms, and I spammed myself.
Twitter is a valuable tool for writers. I guess. When it doesn't seem like a giant exercise in narcissism. Which it often does. And the tater tots aren't even that good.
Indie writers need all the help they can get and that means we need twitter, but don't be like me. Be selective. Don't just randomly click follow. Hell, half the people I follow might not even be real people. I don't know. I just figure if they follow me, I should follow them back. Even if they are selling discount knock-off sunglasses.
The one thing my high school cafeteria did really well was chocolate chip cookies. They made them fresh and hot every morning (we had a morning break).  That's all I want.  A warm cookie.  A shared chuckle. A furtive glance.  Somehow, I got trapped in detention, but I'm going to dig my way out.  Count on it.  I'm done with the twits.  I want twitter to be like it should be. I want substance, and I want it now. And then I want to go make out behind the bleachers. (@jd_mader) <– call me!
*     *     *     *     *
JD Mader is a Contributing Author for Indies Unlimited and author of the novel, JOE CAFÉ. For more information, please see the IU Bio page and his blog: www.jdmader.com.
[subscribe2]