Today we have a sneak peek from Katie Salidas' urban fantasy book,  Immortalis Carpe Noctem: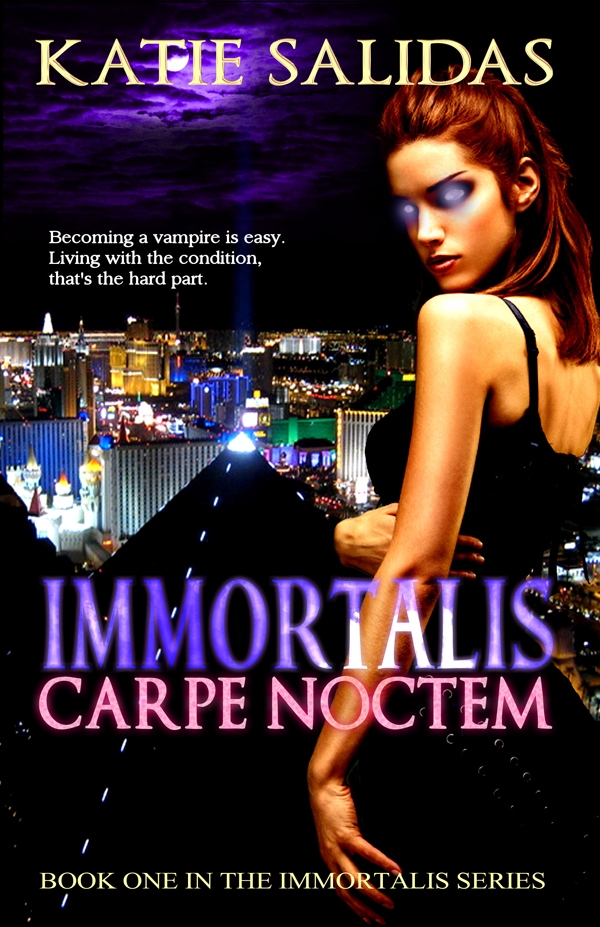 Explore the emotional upheaval that is the transformation from human to vampire.
Bleeding to death after brutal mugging on the campus of UNLV, Twenty-five year old Alyssa, is rescued by the cold and aloof, vampire, Lysander. Taking pity on her, he shares the gift-and curse-of immortality. She awakens as a vampire and is soon devastated by harsh realities of her new way of life: An unyielding thirst for blood as well as the loss of her friends, her independence, and her humanity.
As if having her humanity stripped away was not enough to make life interesting, Alyssa finds out her "turning", did not go unnoticed by the rest of undead society. Old enemies; an ancient sect of vampire hunters, known as the Acta Sanctorum, as well as a powerful Vampire mistress, each set plans in motion to destroy both Alyssa and Lysander.
Only by accepting her new-found immortality, seizing the night, will Alyssa hope to survive. She and Lysander must fight together against two sets of enemies bent on destroying them both.
Immortalis Carpe Noctem is available at Amazon.com, Barnes & Noble, and Smashwords.
And now, from Immortalis Carpe Noctem: 
Darkness surrounded me. A voice spoke softly in my head. Do not die, young one. Be strong. Do not die.
I became painfully aware of liquid pouring down on me, each drop like an icy hammer hitting my sore skin. Movement echoed in my ears, telling me that I wasn't alone. Slowly, I opened my eyes. Harsh light blinded me. My mind was fuzzy. I struggled to recall any small detail that might clue me in to what had happened and where I was.
I reached up to wipe the splattering water from my face. I chanced opening my eyes again. As I looked up, I spotted the source of the water, a showerhead on the opposite wall. Confused by this odd location, I struggled to penetrate the blackness of my memory and figure out how I had ended up in a bathtub.
Where the hell am I?
I tried to focus on the bright, unfamiliar surroundings.
My vision, it seemed, had become remarkably sharp while I was unconscious. I couldn't remember ever noting so many details in such simple surroundings as these before.
Cream-colored tiles covered the walls, each rippled with tiny imperfections. Each held an individual pattern, making them unique and special. Yellowing, porous grout, framing the tiles, appeared to be littered with dots from small air bubbles that had come to the surface, creating different patterns and shapes.
Even the plain white curtain that separated me from the rest of the room seemed unusually detailed and perfectly woven. I saw each tiny strand that had been tightly bound together to form this heavy, durable cloth.
Small specks of mold building up in the corners of the porcelain basin weren't able to escape my new sight either.
The amazing level of detail I experienced didn't hold my attention for long. Freezing water still poured down on me. I needed to reach the handle and end the cold assault, but it seemed so far out of my reach. I eased myself up to a sitting position, my muscles aching with each small movement. Looking down, I saw my beaten body. The water had washed away some of the grime, but what was left of my shredded clothes was stained and clinging to my skin.
"Uggh!" I moaned.
"Oh, good, you're alive," said a male voice from behind the white curtain.
The voice seemed strange and yet somehow familiar. I searched my fuzzy memories to place the voice with a face. A wave of fear came over me as I remembered the attack.
Had I been kidnapped? Was I a hostage of some kind? I struggled to recall the events of the evening.
"You've been out for a few hours. I was worried I might have lost you," continued the voice.
"What?" I called, still not sure who I was talking to.
"It doesn't always work. Some people can't be turned," the voice said matter-of-factly.
"Turned?" What the hell is that supposed to mean?
____________________[subscribe2]