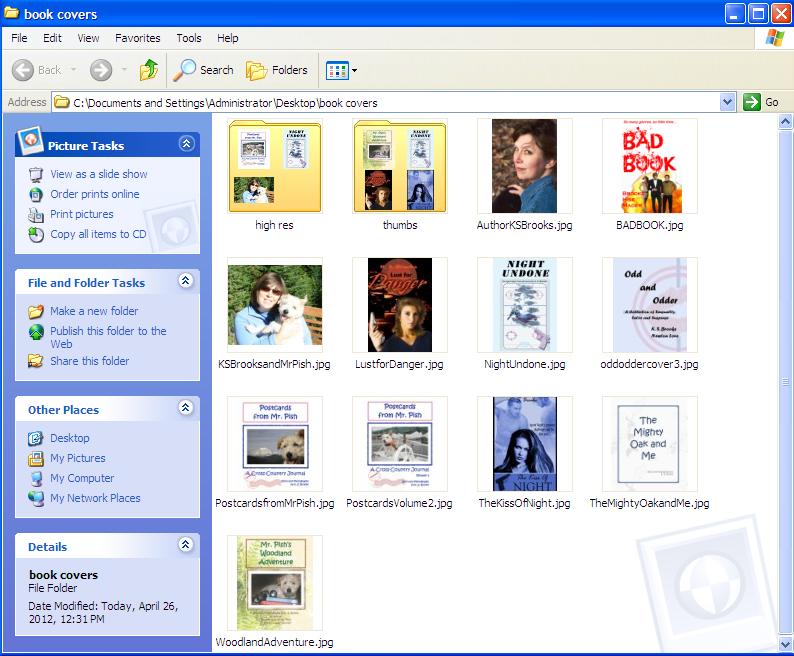 One thing I've learned about this industry is that opportunities come up in a flash, and usually the first people to respond get them. The difference between being prepared and NOT being prepared can cost you. And it's literally as simple as being organized.
I have a folder on my desktop with all my book cover jpgs, my two author photos and a couple of other folders with high resolution versions and thumbnail size versions.  I've made sure they're all named clearly, so it's easy for the recipient to identify. It also helps, if they don't rename the file, with search engine optimization. It never hurts to take advantage of every opportunity to get your title in front of someone. Plus, it looks far more professional to have the book cover for Night Undone labeled as "NightUndone.jpg" instead of "niteundonecoverartsmall.jpg". My author photo is labeled as "AuthorKSBrooks.jpg" instead of  "DSC00013".
You may think "whatever, the name of the file isn't that big of a deal", but honestly, it's how you're being represented to whomever you're sending the files. I'd say about 90% of the files I receive (and I receive a LOT of them on a daily basis) are not properly labeled.  So when I save them to my desktop before uploading them for a post, many times I'm forced to rename them. When I go to look for them, if they're "DSC00013" – that makes it a little more difficult to find. If you're sending these files to a reporter or editor, do you REALLY want to make more work for them?  I'd say no.
Where is this all going? you ask. Thank you for asking. Let me tell you. Today I received an email from a radio personality in Boston looking for authors to interview on his 7 a.m. show. I knew he'd broadcast that message to a list of at LEAST 1,000 authors. I knew I had to be among the first to respond or I wouldn't make the cut. "Please reply with your author photo, book cover and book blurb," he wrote. Well, BAM! I hit reply, I quickly and easily attached my files, inserted my book blurb and hit send. If I hadn't have had that folder set up, I would have had to search for the book's folder in My Documents, then figured out which of the 3 files I wanted to send by size, or wait, is this revision 1 or final? You know what I'm saying. Yes, you do. Don't deny it. We all do it.
Each time a new book is released, I've gotten into the habit of automatically putting the new book cover in that folder. I do that just to save myself the aggravation of having to search for them. With nine published books, it's just easier for me and made sense. It hadn't occurred to me that this folder could end up being the difference between getting a radio interview and not.
I never was a Boy Scout (although I did beat a few up – long story), but I guess maybe, just maybe, there is something to their motto Be Prepared.