Hootsuite 101- Twitter Just Got a Lot Easier
So you've been using Twitter and starting to gain followers. Perhaps you log in every morning and check to see what your followers are saying. Maybe, you even click on hashtags to see what is going on with current trends. That's great, better than most actually. But there is a lot more that Twitter has to offer.
How do you access the rest? By using Hootsuite.
Hootsuite is a "social media dashboard." Basically, it takes up a page or tab of your browser (it is completely web based) and allows you to see Twitter through an entirely different lens. Hootsuite allows you to view Twitter in a "column" view. That is, your home feed, your @ mentions, your Direct Messages and everything else is put into columns for you to easily access.
Utilizing Columns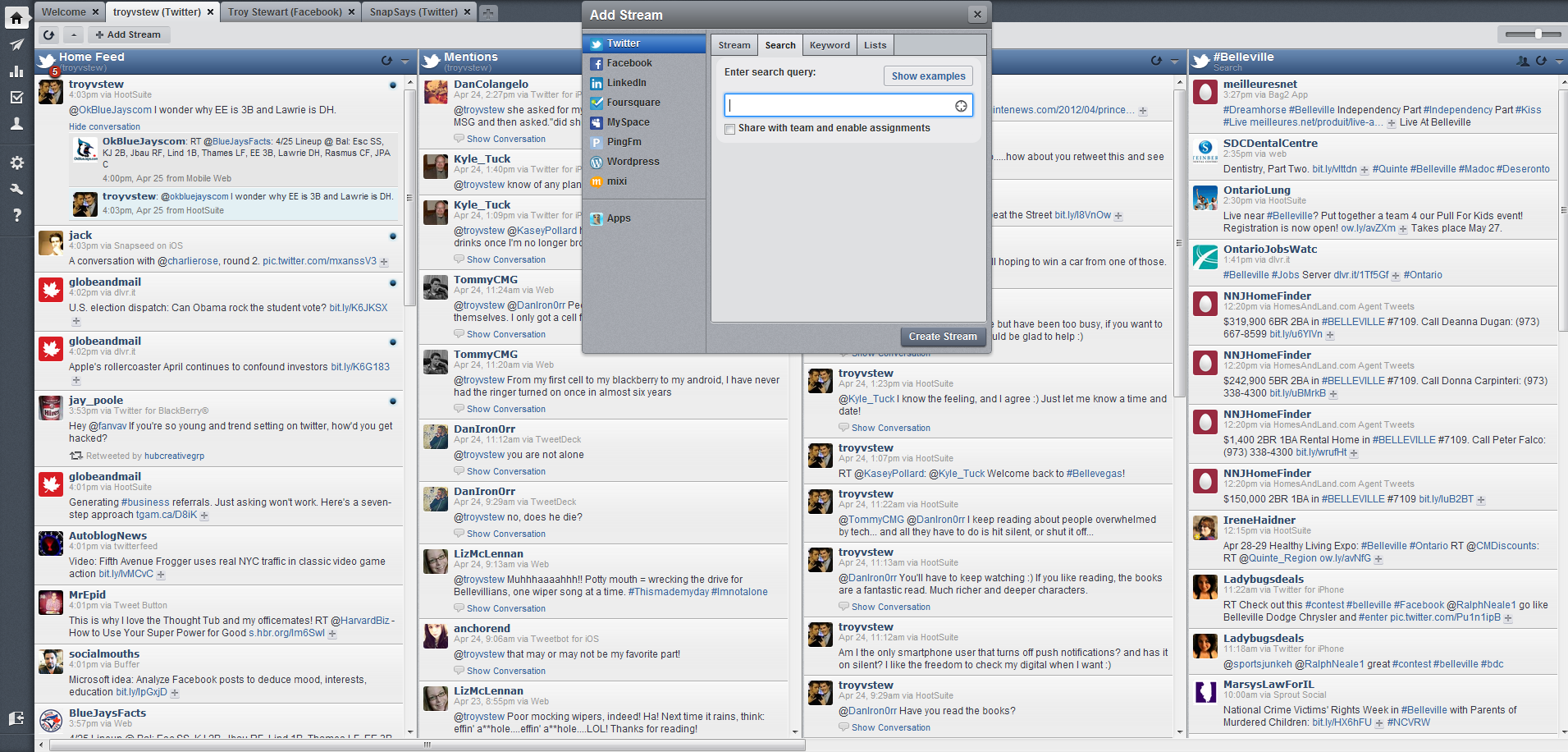 It takes a while to get used to the columns but once you get used to it you'll rarely log into Twitter again. You can add columns to track a favorite hashtag (such as #ebooks or #indieauthor) which is great for targeting specific niches and audiences.
Columns can also be saved as lists of users to break down targeted demographics. I have mine set up for local Tweeters, friends, media, clients and more. This reduces the noise of the main Twitter feed once you start following hundreds and thousands of users.
Specific key word searches can be saved as columns as well. I use the search term "Snap Design" to search for any mentions of our company that aren't Twitter mentions (ie. Someone using our username @SnapSays). I also have our local area as a search term, in addition to the hashtag, to keep up on current news and events.
Scheduling Tweets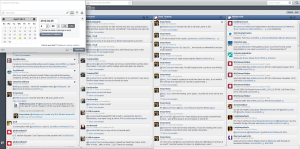 Another great thing about Hootsuite is the scheduling feature. Many times I'll set my tweets up at 9am on Monday and schedule them to go out during the rest of the week. Scheduling lets me set up basic tweets such as "check out our Facebook page" or "read my latest blog post" to keep my feed active.
Although scheduling Tweets is great I don't see it as a substitute for paying attention to current conversations and tweeting in real time. They do take a lot of hassle out of tweets that are not context sensitive though.
Take Control of Multiple Profiles
Another great advantage of Hootsuite is the ability to control more than one Twitter account simultaneously. If you run a professional Twitter feed and a personal Twitter feed you no longer have to log in and out to switch between accounts. Hootsuite, using tabs, lets you select which account you want to post from and which account activity you want to view. It is really simple and I use this feature multiple times an hour.
Hootsuite has paid packages as well (starting from $5 a month and up) which allows profiles to have team members assigned to them.  Team members can be restricted to just viewing and not posting (great for analysis) and can also have tasks assigned to them (great for having someone respond to a Tweet/mention). This functionality is great for larger companies or even if you hire a consultant to view your outreach.
Twitter Unleashed
Targeted columns, scheduling Tweets and multiple profile management really do "unlock" a lot of Twitter content. Rather than taking a lot of time to switch between your home feed and hashtags, you can see everything on one page. No movement required and no forgetting a specific hashtag you want to track. Columns, other than hashtags, also save content that is posted while you are away which is great if you only have an hour a day to check out Twitter.
Hootsuite can be used for other social media platforms, but I advise against using it to post on Facebook, WordPress etc. The formatting usually is not quite right and user engagement drastically drops from Hootsuite posted content to these sites (more info here and here).
There are also many competitors such as the Twitter-owned Tweet Deck and another program Seesmic. There are many others out there as well.
I find Hootsuite to be the best of all three but take your pick. Using any of these dashboards will open up a whole new world of Twitter to you and make your marketing efforts/community engagement much easier and more effective.
———————————–
Troy Stewart is the marketing strategist for Snap Design, a Toronto based marketing firm. His specialities include digital marketing, inbound marketing and writing. Follow him on Twitter @troyvstew and also his professional account @Snapsays. [subscribe2]