Today we have a sneak peek from Ed James' mystery novel Ghost in the Machine.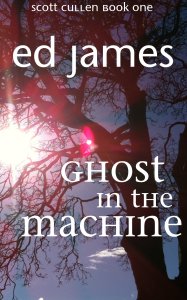 Detective Constable Scott Cullen of Lothian and Borders has only been three months in CID as a full DC. He is assigned a Missing Persons case which has stretched his uniform colleagues. Caroline Adamson – a young, recently divorced mother from Edinburgh – has disappeared whilst on a date.
The more Cullen digs into her disappearance, the more he unravels her private life. Who was she on a date with? What happened during her divorce from Rob Thomson? As Cullen's own private life gets messier and the relationship with his DI deteriorates, Caroline's body turns up and he finds himself hunting for a ghost in the machine.
Ghost in the Machine is available through Amazon.com, Amazon UK and Smashwords.
And now, from Ghost in the Machine:
Caroline
Wednesday 28th July, 7.30pm
Caroline Adamson sat and waited in the bar. Where was he?
She checked her watch; he was five minutes late. Felt like hours. She shouldn't have got there so early.
She looked for anyone vaguely resembling Martin's photo on Schoolbook. Nobody even came close. She didn't want to get herself a drink, in case he just turned up. That would be uncomfortable.
She rummaged around in her handbag, and found her mobile. She opened the Schoolbook app and picked out her train of messages with Martin, re-read the instructions again, just to make sure she hadn't messed up. No, there it was, meet at the bar of the Jackson Hotel at 7.30pm.
Her phone buzzed; a new text message from Steve Allen, one of her oldest friends.
"Just on my way to Parkhead, wanted to wish you good luck for tonight. Not that you'll need it."
The usual trivia from Steve, never getting to how he felt or anything real. Not that she could talk, mind.
She replied. "I don't think I'll need it. Good luck though."
She had just set her phone down on the table when it rang, an unknown number. Her hands shook as she put the phone to her ear.
"Caroline, hi, it's Martin." He had a Northern Irish accent.
"Hi," she said, her voice a nervous croak.
"I'm really sorry, but I'm running late. I've just got back from the office, had a last minute meeting, and I'm just getting ready now. Have you got yourself a drink?"
"No, no I haven't."
"Tell you what, why don't you come meet me by my room and we'll go from there? It'll save you getting hassle from the guy behind the bar."
"Sure," she said.
"It's just at the back, ground floor, room 20."
The phone clicked dead.
She got up and left the bar. Her heart was racing; she was finally going to meet him. In person. She wondered about meeting him by his room but they'd talked so often on Schoolbook that it felt like he knew everything about her, like they'd known each other for years.
She left the bar and walked through reception. A brass plate on the wall pointed to the rooms, she headed for room 20, walking along the beige carpet, past the wood panelling. When she got to the room, the door was ajar. Frowning, she knocked on it. "Hello?" The door opened further.
A voice came from behind her. "Hello, Caroline." A Northern Irish accent.
She tried to turn around. A rope bit into her neck, a hand clasped over her mouth.
She was pushed into the bedroom.
____________________________