Today we have a sneak peek from author Karen Lenfestey's romance novel, What Happiness Looks Like.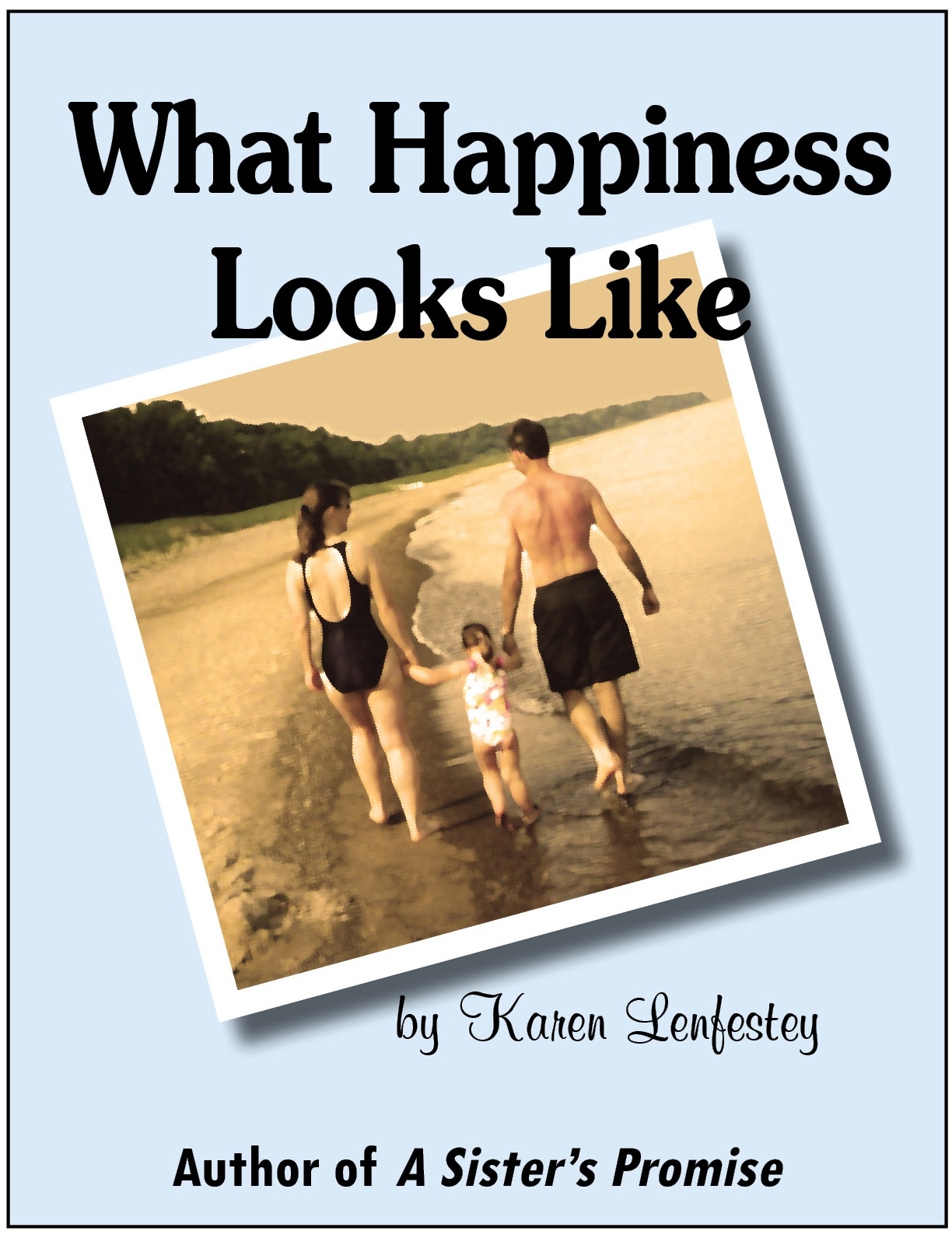 Joely Shupe had a vision of what her thirties would look like: she'd be the mother of two, finger painting with her kids during the day and cooking dinner for her loving husband at night. Instead she's a single mother struggling to provide for her young daughter.
Suddenly her ex-fiancé, Jake, shows up claiming he's ready to parent the daughter he abandoned five years ago. Joely is more interested in Dalton, who offers to take care of her the way no man ever has. Should Joely risk her daughter bonding with someone new or with the man who broke her heart?
What Happiness Looks Like is available on Amazon.com. 
And now, from  What Happiness Looks Like:
Joely couldn't stop thinking about the fortune cookie she'd had with lunch—the one that suffered from a translation error. She ran her tongue over the sweet, crunchy bits of cookie still stuck in her back molars. It had read: "When opportunity calls, answer." She'd always heard that opportunity knocked. Feeling cheated, she'd selected another cookie from the basket on the buffet. That message was even worse: "Your past will determine your future." She clenched her teeth. One thing Joely knew for sure: she regretted her past and had no interest in revisiting it.
Through the bank of windows she could hear kids laughing, sometimes screaming, on the playground. As she sat alone in her daughter's kindergarten room, she looked at its dramatic colors: the red apple and the striped zebra on the alphabet above the chalkboard and the children's watercolors of scarlet poppies, purple irises and blue morning glories.
The phone behind her trilled. She flinched, banging her knee on the miniature table. Her long legs were always bumping into things.
"Shouldn't you get that?" came a deep voice from the hall.
She looked over and saw a man, dressed in jeans and a burgundy button-down shirt, standing in the doorway. They made eye contact and he smiled.
When the phone trilled again, she shrugged. Before the teacher left for recess duty, she hadn't mentioned what to do if the phone on her desk rang. It never had before when Joely volunteered, which she did twice a week. Besides, it seemed wrong to answer someone else's phone.
The man closed the distance between them and shook her hand. "I'm here to help. My name's Dalton." He had wavy chestnut hair, a dimple in his chin and he smelled like the country sky—clean, fresh, exhilarating.
"I'm Joely."
Finally, the phone went silent. Joely's shoulders relaxed. She explained that they needed to cut poodles out of black felt for the Dads' Night celebration just hours away.
Dalton sat across from her and struggled to cut the felt with the dull, safety scissors. They worked in silence for a while until he cleared his throat. "Is Anna's dad excited about tonight?"
His words stabbed her in the ribs. Anna had never met her dad. He'd been too preoccupied with his other family to care about them. "No. My sister Kate's husband will be her escort."
"Divorced?"
Joely shook her head. "Never made it down the aisle."
His lips squeezed together as he nodded. "Maybe it's better that way." Sadness flashed through his eyes.
"I don't know about that."
Just then the phone on the teacher's desk rang. Dalton and Joely looked at each other. Her fortune popped into her head. Perhaps it was bad luck to ignore the call.
She stood. "Maybe it's important." She lifted the receiver in mid-ring. "This is the kindergarten classroom. Joely Shupe speaking."
An elderly woman's voice crackled over the line. "There's a man here in the main office. He says he's Anna's father."
Joely's insides bottomed out like an elevator with cut cables.
______________________________