A few weeks ago I shared a couple of cheat sheets with you for the major social media sites. You can find those for Twitter, Facebook and Google+ here and YouTube, Pinterest and LinkedIn here.
Today, I wanted to give you a couple of more little tricks. We see them all the time. Things like  this:
When you want to get a little attention to your blog post or just about anything you want to share, it's important to make it easy for the user. Here's how you can send YOUR message when you ask someone to pass along your content.
In the example above, we not only want to have others tweet the hashtag (#) IndiesUnlimited, we can also send a prefilled message … like this one: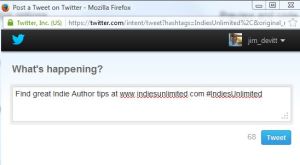 With this tool, you can set up your message and when the user clicks the Tweet icon, a pre-filled dialogue box with your custom message appears.
Here's how. On the Twitter site you'll find a page full of great tools. Here you can preset share a link buttons, follow buttons, hashtag buttons (like above) and mention buttons. It's pretty simple to do; just click the button you want to create and you can fill in the custom fields.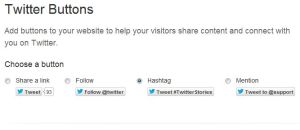 Then, copy and paste the HTML code and you can put it just about anywhere. It's a great way to have others tweet the message that you want to go out. Go ahead, give it a try and you'll look like the pros.
Try it out below, just click the link and share with everyone.