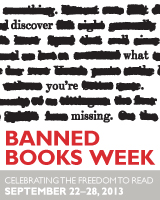 Have you ever read a banned or challenged* book? Chances are that if you had a public school education, you've already read plenty of them. The Grapes of Wrath? Banned for its religious and labor union references. Brave New World? Banned for references to drug use and sex without benefit of marriage. The Catcher in the Rye? You name it. One of my favorite novels, Lolita, has been on a banned or challenged list pretty much every year since its publication.
Fortunately, people who love books and value access to information are fighting back. First launched in 1982 and held during the last week in September, Banned Book Week celebrates and supports the freedom to read. It seeks to bring together everyone in the book community to preserve the freedom to share ideas, even those out of the mainstream.
When I think about banned books and censorship, images of the book-burnings from Fahrenheit 451 spring to mind. I see hordes of outraged parents, demanding that literature be ousted from school libraries and English department curricula because—oh, no—young adults might be scarred for life from reading controversial material at the very time when their brains are thirsty for new ideas and ready to form their own opinions. I see harshly worded letters to public libraries demanding the removal of 50 Shades of Grey from their shelves. (Okay, it's not my favorite, but I wouldn't dream of preventing anyone from reading it.)
The inclusion of Captain Underpants, however, threw me for a loop. Yes. Topping the list of banned and challenged books for 2012 is a children's series by Dav Pilkey about a couple of fourth-graders who write the adventures of a comic book superhero based on their hateful school principal. And this is not Pilkey's first go-round. He was also given the dubious honor of making the list in 2002, 2004, and 2005.
According to the American Library Association, Pilkey's series was banned in some schools for "offensive language, insensitivity and being unsuited to age group, as well as encouraging children to disobey authority."
It seems so silly to me. Of all the things in this complicated world that adults wish to protect children from, a bit of authority challenging and a few booger jokes should be the least of their problems. Pilkey, drawing from personal experience, is a champion for kids who struggle in school because they don't fit into the preferred disciplinary mold. In a statement issued by Pilkey to the Huffington Post after the list was released in April, he said, "I don't see these books as encouraging disrespect for authority. Perhaps they demonstrate the value of questioning authority. Some of the authority figures in the books are villains. They are bullies and they do vicious things."
As part of his statement, Pilkey said that his characters are based in part on teachers and principals he had in elementary school, some of whom were "villains" who got away with it because they were authority figures.
"None of the children in my school, including me, thought to question them," he said. "So, I do feel there is real value in showing kids that not all authority figures are good or kind or honorable."
Banning and challenging books does not stop with schools, however. It touches nearly every publically funded institution. In a recent case in Connecticut, author Wally Lamb, who works extensively with establishing literacy programs in correctional facilities, had one of his novels, She's Come Undone, banned from a prison library. Fortunately his fans came to his aid and got the challenge dropped.
I can't speak for everyone, but the reading of banned books did not corrupt my mind or person, and I consider myself much richer for the experience of reading them. Many of these works are brilliant, sparkling examples of literature that examines the plight of mankind in its evils and its glories. They capture moments in time, some we would rather forget. Like the Salem witch trials. Nazi Germany. American slavery. Japanese internment camps. The subjugation of women. The civil rights movement. Homophobia. These stories use language appropriate to the situation and the times; they portray characters that are either victims to their (our) failings or villains in their (our) taking advantage of those failings. Maybe that's why so many individuals and organizations over the last century have sought to ban these books—because literature is a mirror of a civilization, and it shows the utter humanness of us. And maybe some would choose to hide that from the next generation, either in a misguided attempt to shelter them or in a dastardly attempt to control them.
Banned Book Week 2013 will be held from September 22 to 28. Check the website for any special events being held in your area. If there aren't any, start one! Record and post a video of you and your friends reading from or discussing a banned book.
Or just read one and appreciate the fact that you can.
*A challenge is an attempt to remove or restrict materials, based upon the objections of a person or group. A banning is the removal of those materials. Challenges do not simply involve a person expressing a point of view; rather, they are an attempt to remove material from the curriculum or library, thereby restricting the access of others. As such, they are a threat to freedom of speech and choice. (Definition supplied by the American Library Association.)