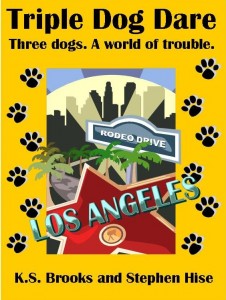 This past weekend, the Evil Mastermind and I released our latest collaboration: Triple Dog Dare. Man, am I exhausted.
While this is my nineteenth release, things are always inevitably forgotten. But, you're a spreadsheet geek, Brooks. Don't you have a list somewhere, you ask? Yeah, I probably do.
I thought it might be helpful to authors beginning a project or approaching release time to have a breakdown of what to do with a general idea of when. This list isn't for everyone, or perhaps anyone, but at least I'll know where to find it next time I do a release. That's right; it's all about me.
A few things, before I dive into the list. I believe in editing before Beta readers. I know many people prefer it the other way around, so do what works for you. Also, I'm a paranoid hermit, so I don't believe in doing book cover reveals, teasers, title leaks, or anything of that regard.
Book Preparation Process
Write book
Edit book
Rewrite book
Hem and haw over rewriting book again
Make initial contact to Beta readers
Upload MS to Createspace; print proofs
Send book to editor
Implement half of editor's suggestions
Ignore half of editor's suggestions
Reconsider ignored suggestions and rewrite pages
Update Beta readers on timeframe to receive book
Solicit ARC (Advanced Review Copy) readers
Argue over genre classifications
Format book and upload to KDP (Kindle Direct Publishing)
Download .mobi file; generate PDF file
Send files to Beta readers
Chew fingernails down to the quick awaiting feedback
Work on Video Trailer
Design book's web page
Touch base with ARC readers
Continue trying to get more ARC readers
Get Beta feedback
Fix typos as needed
Regenerate mobi and pdf files for ARC readers
Should write press release now but too frazzled
Develop perks for Betas and ARC Readers
Start implementing ARC typo feedback
Check in with ARC Readers
Bang head against wall for the hell of it
2 days prior to launch:
Email ARC readers an update
Upload corrected final eBook files
Arrange with two excellent people to check for formatting errors on their ereaders the next morning
Set price to 99 cents (you'll see why)
Late in the day, press the publish button
Cross your fingers that it's live when you wake up
1 day prior to launch:
Wake up before the alarm because you're fried
Check to see if book is live
Send gift cards to 2 people to check for formatting issues
Bang head against desk in anticipation
Update web pages and announcements with purchase links
Get go-ahead from formatting checkers
Email instructions to ARC readers
Get book up on Goodreads, LibraryThing, and Shelfari
Contact Amazon Author Central like 30 times to claim to author page
Tear hair out that "Look Inside Feature" is not working
Eat Snickers to stay awake
Set up book release party on Facebook; invite and annoy everyone
Go through book pulling out quotes to tweet the next day
Make trailer video public on YouTube
Launch book's web page
Eat more Snickers bars
Realize you're still in your pajamas
Remember to set up KDP Select promo to free for release day
Try to add book to author page five more times
Lie in bed completely wired
Release Day!
No need to wake up because you never slept
Stagger past coffee to computer
Check for reviews on Amazon
Go to Event on Facebook, start entertaining people
Realize you have no idea how to entertain people
Panic
Go to KDP screen to check free download count
Bang head against wall
Be grateful for excellent friends who start posting good stuff on event wall
Start posting excerpts to Twitter and event page
Email Author Central AGAIN about your book
Wonder how often you should post to the FB event
Lock up your browser from clicking refresh too many times on KDP Reports
Lock up your browser from clicking refresh too many times on your book's page
Do a happy dance when Author Central finally links your book!
Private message your friends about the event even though you already invited them
Run out of steam around 6 p.m.
Realize you are still in the same pajamas
Tell yourself you'll do the press release tomorrow
Smile because you're #15 in free humor
Take screen shots of the ranking
Share the screen shots in the event
Release a happy sigh because 50% of the ARC readers posted reviews, following instructions perfectly!
Put your head down for just a moment
Wake up with keyboard imprints on your forehead.
I'm thinking you may have a few questions, mostly pertaining to running a freebie out of the chute, and setting the price at 99 cents. Well, first off – the 99 cent price is great if you're gifting it to people. That is the lowest you can go and costs you the least. You still get your royalty, and sending gift cards to two people costs you only about $2.00. Running the freebie is a sort of thank you to your Betas and ARC readers, so they can have the newest and best version of the book. Also, if they download the freebie before writing their review, it will show as a verified purchase. This can be important. You might as well offer this as a lure to get people to your event, too. People love free, right?  Lastly, we'll be keeping the 99 cent price for one more week after the freebie. This will give people who heard about the freebie and normally wouldn't take a chance on your writing the opportunity to do so at minimal cost.
Again, all – or none – of these may be right for you, but I think it's a formula that has potential. Now, if you'll excuse me, I'm going to go massage the keyboard imprints out of my forehead. Good luck with your next release!