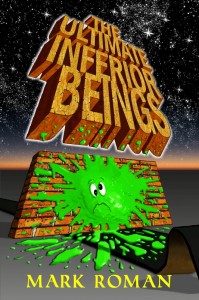 Landscape architect jixX is mistakenly appointed captain of a dangerous space mission. With a useless crew, and a ships' computer that thinks it's a comedian, the last thing he needs is an encounter with aliens. Among them are a nutty bunch of religious fanatics who believe in the existence of The Ultimate Inferior Beings, a species so totally inept that, according to an ancient prophecy, their incompetence will bring about the end of the Universe. One alien becomes convinced that humans are this bungling species and that the only way of saving the Universe is to destroy them …
The Ultimate Inferior Beings, the science fiction humor novel by Mark Roman, is available from Amazon US and Amazon UK.


Don't forget, you can cast your vote for trailer of the month on September 28, 2013 at 5 p.m. Pacific time.