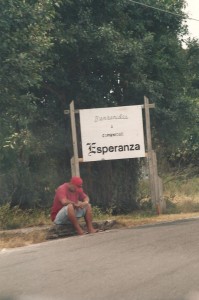 Sixty year-old Doug Slater was a wealthy New York banker. One night, his high-stress life caught up with him. Doug had a stroke in his sleep. For the last four years, he has been in a coma.
The last thing he remembered was going to sleep. No one was more surprised than Doug when he woke up this morning.
Partly, this was because he didn't know where he was. Mostly, though, he was surprised to discover that he was now a young Latino man.
As disorienting as all this was, Doug's day was about to get a whole lot weirder…
In 250 words or less, tell us a story incorporating the elements in the picture. The 250 word limit will be strictly enforced.
Please keep language and subject matter to a PG-13 level.
Use the comment section below to submit your entry. Entries will be accepted until Tuesday at 5:00 PM Pacific Time.
On Wednesday afternoon, we will open voting to the public with an online poll for the best writing entry accompanying the photo. Voting will be open until 5:00 PM Thursday.
On Friday afternoon, the winner will be recognized as we post the winning entry along with the picture as a feature. Then, at year end, the winners will be featured in an anthology like this one. Best of luck to you all in your writing!
Entries only in the comment section. Other comments will be deleted. See HERE for additional information and terms.