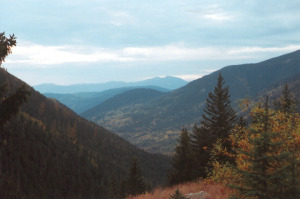 Captain Benedict halted the column at the crest and waited for Mr. Morton to return from scouting ahead.
The men's nerves were on edge after a long hard day. The extra vigilance of being deep in enemy territory adds considerably to the heavy burden of surviving in the wilderness.
When Morton finally rode up, we could see him exchanging a few words with the captain. I saw the scout pointing off to the passage at the Northwest. Then Captain Benedict pulled out his pistol and shot Morton right in the head.
I swallowed hard and wondered whether Morton had betrayed us or if the Captain had gone mad. There was no comfort in either answer.
In 250 words or less, tell us a story incorporating the elements in the picture. The 250 word limit will be strictly enforced.
Please keep language and subject matter to a PG-13 level.
Use the comment section below to submit your entry. Entries will be accepted until Tuesday at 5:00 PM Pacific Time.
On Wednesday afternoon, we will open voting to the public with an online poll for the best writing entry accompanying the photo. Voting will be open until 5:00 PM Thursday.
On Friday afternoon, the winner will be recognized as we post the winning entry along with the picture as a feature. Then, at year end, the winners will be featured in an anthology like this one. Best of luck to you all in your writing!
Entries only in the comment section. Other comments will be deleted. See HERE for additional information and terms.