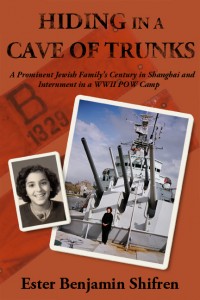 Today we have a sneak peek from the creative non-fiction memoir by Ester Benjamin Shifren: Hiding in a Cave of Trunks.
Against an historical background, this true story of a British family's century-long existence in Shanghai, "Paris of the East," details the culture and tribulations of the colorful multi-ethnic population. In the 1840s the Benjamins went from India to Shanghai, where they prospered, even achieving high-level diplomatic positions. Owners of prize-winning horses, the family sometimes conducted business on a handshake at the race-track! World War II abruptly terminated their privileged lifestyle. The Japanese stripped them of all worldly possessions and interned them for three years in a POW camp, inflicting great hardship and loss of optimum health. In 1948 the Benjamins relocated to Hong Kong, where the Korean War embargo eventually caused their irreparable financial collapse.
Hiding in a Cave of Trunks is available from Amazon and Amazon UK.
Here is an excerpt from Hiding in a Cave of Trunks…