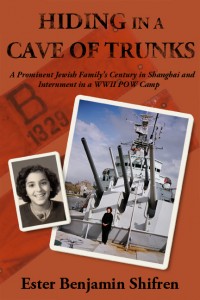 Today we have a sneak peek from the creative non-fiction memoir by Ester Benjamin Shifren: Hiding in a Cave of Trunks.
Against an historical background, this true story of a British family's century-long existence in Shanghai, "Paris of the East," details the culture and tribulations of the colorful multi-ethnic population. In the 1840s the Benjamins went from India to Shanghai, where they prospered, even achieving high-level diplomatic positions. Owners of prize-winning horses, the family sometimes conducted business on a handshake at the race-track! World War II abruptly terminated their privileged lifestyle. The Japanese stripped them of all worldly possessions and interned them for three years in a POW camp, inflicting great hardship and loss of optimum health. In 1948 the Benjamins relocated to Hong Kong, where the Korean War embargo eventually caused their irreparable financial collapse.
Hiding in a Cave of Trunks is available from Amazon and Amazon UK.
Here is an excerpt from Hiding in a Cave of Trunks…
Our camp officials told us to wait awhile longer before leaving because it was still unsafe to venture beyond the camp boundaries. Gunshots could be heard from time to time. We listened for the drone of Allied planes flying above, and watched with indescribable excitement as they began dropping beautiful, colorful parachutes bearing huge parcels of supplies, many of which fell outside the camp and had to be retrieved after dark because of the many lurking snipers.
Chinese bandits posed an additional danger. Once they found out about our parcel drops, they were always around, watching and waiting to steal the boxes—that sometimes broke open on impact—before we got to them. The enormous cartons contained wonderful items we had been deprived of for so long—chocolates, chewing gum, powdered milk, jam, canned corn beef, sardines, coffee, tea, and various other food items. Clothing, underwear, shoelaces, medical supplies, toiletries and sundry small essentials were also included. Some internees were blissfully satisfied with supplies of cigarettes and matches.
A pile of American comic books mysteriously appeared and quickly did the rounds, passing from hand to hand until they were tattered and torn.
In the field beyond the fence, some huge brown horses, shot and abandoned by the fleeing Japanese, lay dead or dying from their wounds. They lay on their sides, emphasizing their mammoth rumps. Large black flies covered the bodies of beasts that had succumbed. Those still alive were twitching, jerking, neighing and groaning. As if from nowhere, loudly shrieking birds of prey appeared, and circled the skies above the fields of death. The August heat and humidity was unbearable, accelerating the decay and creating a rising stench that was nauseating.
One of the dying horses suddenly seemed to sense me staring at him. His beautiful, pain-filled brown eyes, like darkened pools, appeared to look pleadingly straight into my own staring, horror-stricken eyes. I clutched the wire fence in terror but could not tear myself away.
Alongside many other young and older children, I bore witness to terrible sights and sounds until, mysteriously, the field was cleared during the night, probably by starving Chinese. The same field from whence we collected the wonderful parcels dropped by the Allies. The adults were generally not around to share the horror we had just experienced. They were busy with their usual duties and preparations for our departure for home when the "all clear" signal was finally given.
By the end of the three years, all our food supplies were used up and all our clothing and shoes had worn out. Most of the time we were barefoot. Whenever possible, people had handed down, or bartered clothing, and everything possible had been recycled to death. We were all thin and undernourished, and many had suffered from the dreaded dysentery and other debilitating illnesses.
The friendly GIs brought the latest music and dances, and re-introduced joy and hope into our lives. Every day they played Oh What a Beautiful Morning and other happy songs on loudspeakers outside some camps. One delightful day Daddy called us to see a movie. "Come on everyone—we're going to see Meet me in St. Louis." We ran out quickly to join fellow internees seated on benches in the quadrangle in front of Block A.
---