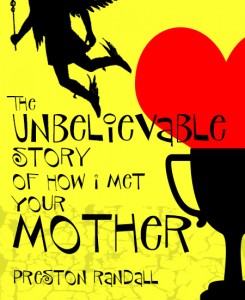 Today we have a sneak peek from the comedy by Preston Randall: The Unbelievable Story of How I Met Your Mother.
Daniel Zurenski is about to encounter a crazy array of characters who are going to change his life forever. It starts with Fred Zimmerman who scrubs pots at The Spaghetti Barn restaurant and accidentally sets off a disastrous chain of events. There's the volatile restaurant manager Paolo and his greasy head chef nephew Tony. Then there's a fanatical sports reporter named Bruce Jagerski who dreams of winning a marathon if only he didn't have such a bizarre running style. All come together during marathon race weekend in this hilarious tale which will keep you guessing right to the finish line.
This book is available from Amazon.com and Amazon UK.
Here is an excerpt from The Unbelievable Story of How I Met Your Mother…
Continue reading "Sneak Peek: The Unbelievable Story of How I Met Your Mother"