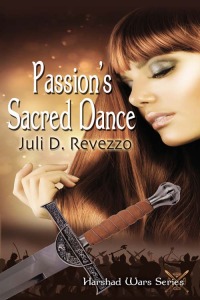 Today we have a sneak peek from the paranormal romance by Juli D. Revezzo: Passion's Sacred Dance.
Battling mounting debt, Stacy Macken is determined not to lose her historic art gallery. When Aaron Fielding offers help, she fights to keep the attraction between them from clouding her judgment. He may be her savior in disguise–but can she trust him?
Aaron intrigues her with tales of the Tuatha dé Danann, sworn warriors who protect humanity from monsters seeking their destruction. If Aaron can prove his claim, she would give up anything to help–even the gallery he claims is sacred ground.
If the battle is lost, the enemy will control Earth for the next five hundred years. Stacy and Aaron's budding love might only complicate things.
Passion's Sacred Dance is available from Amazon.com and Amazon UK.
Here is an excerpt from Passion's Sacred Dance…