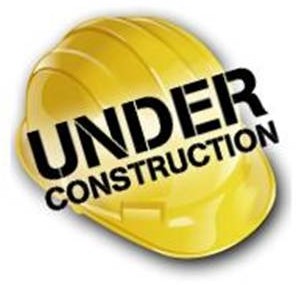 Social media platforms are always evolving. Here are two major changes that have occurred over the past few weeks that can help us as writers and publishers.
How many times have you posted to Facebook and later found a typo? Comments and likes have started to pile up, but you need to delete the post and start from scratch. You hate to delete it because you'll lose the conversations. Fret no more.
You can now edit posts on Facebook after you've hit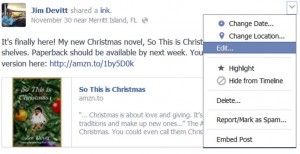 the "publish" button. Click the drop down box in the upper right hand corner of the post to present the options. From there, just click "Edit …" and you are on your way. Easy Peasy. The function is currently available for web and Android—iOS is on its way. Now you can post at the speed of light knowing that the edit button is just clicks away.
Another big change that you might have missed involves YouTube. There has been talk on Indies Unlimited lately about sound tracks with eBooks. Royalty issues are a big issue when involving pictures or music.
Our options have been to use original music, and last I checked, except for maybe JD Mader, we're writers not musicians, or the canned music provided by the book trailer sites.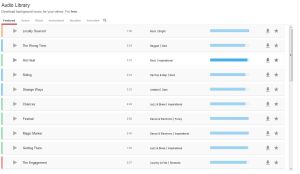 Now we have another option. YouTube has launched a YouTube Library that consists of royalty-free instrumental tracks. Yep, you can use them free, forever, and it doesn't have to be for a YouTube video. You can use them for any creative purpose. You can browse the material by mood, genre, instrument and duration.
My final tip is not necessarily a good one. Since its inception, Twitter has enforced a rule that you could only direct message people who you follow. That has now changed. If you've noticed an increase in Twitter spam in your direct message bin, it's probably because of this new functionality. The good news—it's optional. You can go into your settings to change your discoverability settings.
So there you have it, few changes with Facebook, YouTube, and Twitter that you can use to make your Indie life easier!