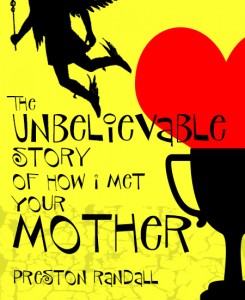 Today we have a sneak peek from the comedy by Preston Randall: The Unbelievable Story of How I Met Your Mother.
Daniel Zurenski is about to encounter a crazy array of characters who are going to change his life forever. It starts with Fred Zimmerman who scrubs pots at The Spaghetti Barn restaurant and accidentally sets off a disastrous chain of events. There's the volatile restaurant manager Paolo and his greasy head chef nephew Tony. Then there's a fanatical sports reporter named Bruce Jagerski who dreams of winning a marathon if only he didn't have such a bizarre running style. All come together during marathon race weekend in this hilarious tale which will keep you guessing right to the finish line.
This book is available from Amazon.com and Amazon UK.
Here is an excerpt from The Unbelievable Story of How I Met Your Mother…
Bruce Jagerski was completely impervious to subtleties in tone and nuance in conversation. He was basically a non-stop talker who blurted out pretty much whatever was on his mind and his news stories were a reflection of that. His editors both loved and hated him. He never missed a deadline in fifteen years but his articles required substantial editing to make them readable.
"Well, you might know me and you might not," said Bruce Jagerski. He smiled warmly. "Depends if you read the papers or not. I'm with the The Times—The Times Colonist, that is, not the New York version. Yep, been there since they built they Ark. They say we get a lot of rain out here but it's not true. We're in a bit of a micro-climate in Victoria—dry as a popcorn fart. Now Vancouver—that's where you'll get a bit damp behind the ears if you know what I mean. But you're a Prairie boy, aincha? Guess you came out here for a little warm-up, am I right?"
While Bruce Jagerski babbled, Conrad did his best to ignore him as the race announcer broadcast final instructions before the countdown to the start. All the runners crowded up from behind. The announcer called out: "TEN, NINE, EIGHT…"
A scuffle broke out on the sidewalk in front of The Empress—an elegant waterfront hotel 50 metres in front of the mass of expectant runners.
"THREE, TWO, ONE…" The blast from the air horn released the front wave of runners while those behind started jogging in place. With nearly 4,000 runners, it would take a few minutes for those at the back of the pack to even reach the start line.
The three Kenyans sprinted smoothly off the line with Conrad tucked in behind. But as they ran past the entrance to The Empress a short stocky figure raced to the front with knees and arms pumping furiously. Bruce Jagerski trained for fifteen years and this was going to be his day. A mob of runners followed the lead group up Government Street towards the one-mile mark.
As Bruce Jagerski dashed into the lead he failed to notice the man lying unconscious on the sidewalk in front of the hotel. All he saw was a group of spectators running along the sidewalk away from the prone figure. Fred Zimmerman was not only out cold but was also very drunk. This is what happened.
When Fred arrived for work at The Spaghetti Barn at 4:30 p.m Saturday he found a red-faced Paolo waiting for him inside the back door. Paolo barked, "YOU! I'm gonna show you something. Follow me." Paolo walked into his office, sat down at the desk and fiddled with the computer. "Look at this."
---