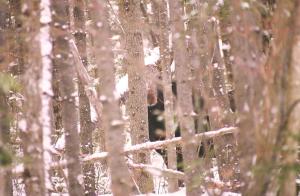 That's Maureen peeking from between the trees there. She's a little bit of a Christmas cookie fiend.
Every Christmas, Maureen follows old Santa on his route, and if he doesn't eat all the cookies left behind for him, Maureen comes in and cleans up any remainders.
She always figured there was no harm in it and she was sure the old elf knew anyway. He always seemed to leave one or two cookies untouched.
One year, as Maureen was following along well behind the sleigh, she noticed Santa's sack had developed a tear and some of the toys were falling out. Oh no! Santa didn't seem to notice. Some of the children might not get their presents!
In 250 words or less, tell us a story incorporating the elements in the picture. The 250 word limit will be strictly enforced.
Please keep language and subject matter to a PG-13 level.
Use the comment section below to submit your entry. Entries will be accepted until Tuesday at 5:00 PM Pacific Time.
On Wednesday afternoon, we will open voting to the public with an online poll for the best writing entry accompanying the photo. Voting will be open until 5:00 PM Thursday.
On Friday afternoon, the winner will be recognized as we post the winning entry along with the picture as a feature. Then, at year end, the winners will be featured in an anthology like this one. Best of luck to you all in your writing!
Entries only in the comment section. Other comments will be deleted. See HERE for additional information and terms.