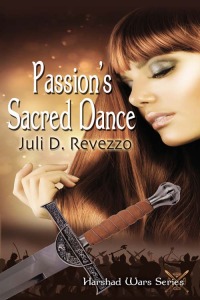 Today we have a sneak peek from the paranormal romance by Juli D. Revezzo: Passion's Sacred Dance.
Battling mounting debt, Stacy Macken is determined not to lose her historic art gallery. When Aaron Fielding offers help, she fights to keep the attraction between them from clouding her judgment. He may be her savior in disguise–but can she trust him?
Aaron intrigues her with tales of the Tuatha dé Danann, sworn warriors who protect humanity from monsters seeking their destruction. If Aaron can prove his claim, she would give up anything to help–even the gallery he claims is sacred ground.
If the battle is lost, the enemy will control Earth for the next five hundred years. Stacy and Aaron's budding love might only complicate things.
Passion's Sacred Dance is available from Amazon.com and Amazon UK.
Here is an excerpt from Passion's Sacred Dance…
Aaron planted his stance against the ground like the roots of a great oak tree, and pulled out his harshad. He flipped the handle over in his hand and two flail-like ends emerged. The ends cut through the glass wall, and snaked around the lawyer's throat like metal ropes, before tightening.
The lawyer's face began to turn red. Rendered immobile, he stumbled easily as Aaron gave the handle a hard tug. Stacy screeched as she tripped along with him. Aaron stepped through the wall, pried Bradley's fingers from Stacy's flesh, and shoved her protectively behind his back.
"Do me a favor," he ground out between clenched teeth. "Call the number I gave you yesterday. They'll do us more good than 9-1-1."
Stacy turned and ran for the hall as the lawyer hissed out, "You should learn not to get involved, unsavory one."
Aaron swallowed his relief when he heard Stacy slam the door against the wall. He turned his attention back to the cackling lawyer.
"I would give you the same warning, human." Aaron studied the man in earnest, his voice calm.
"You have no idea what you're involved in."
"I should say the same to you."
"Oh, I know the depths of their malevolence." He tugged Bradley's shirt collar down to reveal the glowing green eye tattooed on his chest. The lawyer's breathing became more shallow, and sweat trickled from his temple.
"Do you know what you're dealing with? Think long and hard about which side of the debtors' line you'll be on when the battle comes." He slung the lawyer around, towards the back door. "Tell your masters this ground will carry my brand when all is said and done, or I shall gladly hound them to the ends of their unnatural lives!"
He growled his disgust and willing the harshad to release, he shoved Bradley into the courtyard outside.
"Go back to your barrow and tell your masters I won't let this place, or this woman, go so easily. Now, go! Before I decide to send you back to them in pieces!"
The lawyer bolted for the far gate, and Aaron followed, growling a war cry, just to make sure the man left. At the last minute, the man turned on him and shouted, "You think you're so powerful. You will know what true power is when he comes!"
Aaron charged Bradley, shoving him hard through the gate. "Again, we are in agreement, lackey. You will know the full power of our men the next time we meet."
The lawyer stumbled and fell to the ground.
Regaining his footing, he pulled his jacket into place, brushed at the dust on his sleeve as if he had no cares in the world. Aaron raised his harshad and Bradley bolted toward his car. A moment later, his engine gunned and he tore out of the lot, tires squealing.
Aaron replaced his harshad into its hiding pocket and turned to find Stacy staring at him from the office's threshold.
---