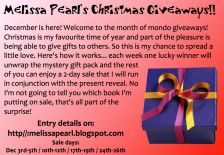 Marketing doesn't have to suck. It can be interesting and fun.
I don't know many authors who love marketing. I, for one, would rather spend my time writing and editing. I wish the books would just market themselves. Unfortunately they don't and this year I decided to have an attitude check and come at marketing from a different angle.
Now, before I launch into this post, I just want to share that my best marketing strategy so far has been to make the first book in my series FREE and then run a Bookbub ad. I have two full-length novel trilogies and I have used this strategy for both of them. It's paid off big time and given my rankings an awesome boost, therefore giving me that extra exposure that's so vitally important.
But I can't repeat that every time. I can only write so much in a year, so I have to try out different things to keep that momentum going. Having read up on a few ideas and taken tips from authors I chat to daily, I am testing out two new theories that I want to share with you.
The first one is running throughout the month of December. I am running a Christmas Giveaway on my blog. I set up Rafflecopter giveaways for each week. At the end of the week, the winner gets to unwrap the surprise Christmas gift, and the rest of the world gets to enjoy a two-day sale. I had no idea how people would respond to this. Would people be willing to enter a giveaway where they had no idea what the prize was? But people really got into it. I had over 800 entries for my first week, which was 2000+ entry points on the Rafflecopter drawer. I managed to increase my newsletter subscription (that entry was worth 10pts), plus I got some excellent buzz generated before the big 2-day sale. The gift was unwrapped Dec 3rd and the winner received a paperback copy of The Betwixt Series Omnibus plus a swag pack (Probably $30 worth of product). The omnibus was a new release and for the first two days of release, I had the book on a $2.99 sale. Now I don't normally talk sales numbers, but for this post, I will share that I sold over 50 copies in that two-day period, which I thought was pretty awesome. Now I'm sure if I'd put the omnibus on special for 99c, I would have had even more sales, but I just couldn't bring myself to do it!
I wasn't sure if after the first week people would lose interest, but as I compose this post, I am happy to say that over 1300 entry points have accumulated after only 2 days, plus I'm getting a bunch of people attending a big FB event I'm planning for 2014 (this is my big 10 pt entry for the week.)
I'm really hoping that I'll get more entries as each week passes and that the momentum will see me through the month. Each 2-day sale should give my numbers a little boost too, so I feel like I'm ending the year with a bang.
The second creative marketing strategy I'm testing out is the big FB event I mentioned above. I've been tracking sales numbers and rankings this year and it hasn't taken much for me to work out that high sales as close to the day of release will give your book an excellent boost in rankings and help it stay visible for that much longer. (I'm talking Amazon here).
So my new series is entitled The Masks Series. The first book, True Colors, is releasing February 16th and I am holding a Masquerade Ball on the same day to celebrate. It is an online FB event and will include flash giveaways, competitions and a few other ideas that I've come up with. The main thing is that every party-goer will be entitled to an e-copy of True Colors for only 99c. This should really help with my boosted ranking on release day.
I read an excellent article entitled Creative Book Launches That Command Attention by Angela Ackerman. It had so many brilliant ideas and I was totally inspired. One of the ideas I liked the most was that she made her book launch for The Emotion Thesaurus all about other authors and not about her and her co-author. I thought this was an intelligent strategy and I want to employ it in my True Colors release.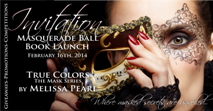 The main premise of this Masks Series is that the MC has the ability to see behind people's "masks". She can see their secrets. So I have made the theme of this Masquerade Ball "Where masked secrets are unveiled". The idea is that the authors who sign up beforehand will reveal a secret on their website or Facebook page at different times throughout the party. I thought this would be a fun way to get some cross promotion going. Party-goers will visit authors' pages, possibly discovering authors they've never heard of. It's also a chance to authors to reveal something they might have coming up and get a little buzz going for their work as well. I am also running competitions for readers and authors. I'm in the process of contacting cover designers & editors to see if they'd be willing to donate their services as prizes. I've already had one blog tour organizer offer me a two-week blog tour as a prize for one of the author competitions. It should be a really fun event and hopefully release True Colors with a great big bang as well as help my fellow authors out at the same time.
So – those are some of the creative marketing strategies I'm trying out. I've really enjoyed putting together both these ideas and it's the first time I haven't thought of marketing with a great big eye roll and a frown.
Have you implemented any fun marketing strategies? Which marketing strategies have worked best for you in the past?