At some point, we'll probably give up on this stuff, but until then, here are the latest changes with Facebook that you might want to know about.
For an author, Facebook is about building relationships and visibility. Facebook groups are great for that, but many times, we want to reach out beyond a closed group. That's where it gets tough.
Back in December, Facebook made some changes in their algorithm and stuck it to the brand pages. Unless you directly visit a page, it's unlikely you'll find content through the News Feed. It's estimated that only 2.5% of your fans will see your post organically. Yep, out of 100 fans, two or three might see your post.
Now they've gone and changed it again! With this change, it will be even harder for "fans" to see what you're sharing. Recently, Facebook altered its algorithm to punish brand pages even more. Facebook's spin is that people generally don't like to interact with statuses from brands as much as from friends. Sounds reasonable, right? We'll get back to that question in a moment.
The mechanics behind the change, as always, is a big "Facebook" secret. However, they did share one aspect of the change that is easy to see and you can make sure you are getting it right. When sharing a link on Facebook, you can do it two different ways.
One way is typing in a link directly into your post like this: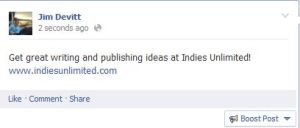 The other method is using the share buttons on the source of the link or typing a link that contains metadata and it comes out like this: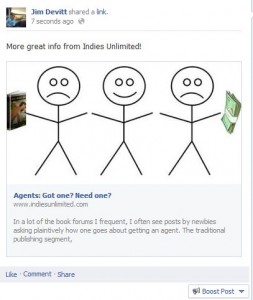 This second method is the way Facebook wants you to share information. They will be promoting links with good metadata in the News Feed allowing you greater visibility. How do you know if you are doing it right? When you put the link in the status update, you'll see if it populates all that extra junk. If it stays as a link, without a picture and the other text, then you should go back and share from the source.
Now, back to the question asked earlier. You see, this might make perfect sense to you on the surface. However, what it really does is punish Facebook "Pages." Make no mistake about it, Facebook is a huge, profit-hungry business. They don't make any changes without considering how it will generate more revenue. These changes continue force our author pages into obscurity.
Why? To get you to pay for what we used to get free. Facebook wants you to "Boost Post" or "Sponsor Story" or generally buy an advertisement. Hey, "It only costs $5.00 to get started" (straight from Facebook s Boost Post set up box.)
As a revenue-generating machine, these changes may make sense. For authors and indie publishers it sends us further out of the picture. I keep saying that Facebook is becoming the "Yellow Pages" of this century. Before long, if you don't pay, you won't be included.
Personally, I don't do much with my page anymore. Sure, I share things to it all the time because it's easy, but I don't count on it much in the big picture. Typically, I have about a 5% visibility rate for my posts, so I'm a little ahead of the curve, but I'm not going reach a whole lot of people that way.
I'm not saying it's hopeless. There are some Facebook Pages that do quite well. In fact, I use Facebook Pages with many of my clients and still get decent and growing visibility. However, I'm seeing that it is tougher and tougher to maintain the same exposure without venturing into the paid route. For many authors, the ROI is just not worth it.