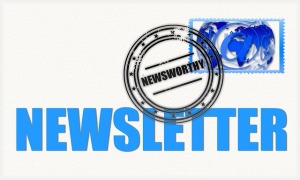 Now that you've perfected your email list … okay, it takes more than a week … let's talk about what goes in your author newsletter. I feel that your author newsletter is, or will, become one of the greatest marketing tools you own. Let's jump in and see what a good author newsletter should look like.
One of the big misconceptions about newsletters is that it needs to be a multipage "book" about you and your writing. Remember, these are the days of 140 character tweets! Keep it simple. Linking your newsletter to your blog or website will allow the reader to access deeper, more extensive content. The number one rule is "The Reader is King." It's difficult to do, but you need to think about what the reader wants and design the newsletter for them.
With that in mind, the following are a few ideas to help you design your newsletter.
Original content – While recycling content is cool for your blog, your newsletter should be 100% original content. While you might touch on topics you've blogged about, give the readers a reason to subscribe with new content.
Personal message – I begin my newsletters with a personal message to set a theme for the newsletter. It might be a simple holiday greeting or for your first newsletter, an introduction to what they are receiving.
Main article or story – This is where I include the primary piece of "marketing" for the newsletter. Of course, you don't want it to come off as marketing! A 600- to 1,000-word article works nicely for a newsletter. You might talk about your upcoming release, roll out a new cover design, give the back-story to a character that appeared in your book or provide any other content that shows your readers that they are a part of a close-knit group.
Minor article – Here you can present a host of different options:
Upcoming appearances.
Interesting data or facts related to your material.
Announce relevant news before you announce to the general public. Your newsletter subscribers are on the inside, remember?
Announce a giveaway or contest for subscribers only.
Meet the team – write a short bio introducing your editor, cover designer, or your formatting specialist.
Sidebar – I use my sidebar to link to the stories in the newsletter and for lots of connecting points.
"In This Issue" – In other words, a table of contents.
"Quick Links" – Links to your blog, Amazon Author page, and any other landing page that you want your readers to visit. I put the Social Media links in a separate place.
Highlight a review! This is a great place to showcase a review on Amazon or any other platform. I will typically take an excerpt and link it to the original review. That way your reader ends up on your sales page!
Book Trailer.
Social Media Icons with links … Twitter, Facebook and Google+.
Podcast link – I would put this in its own box to highlight with a visual.
These are just a few ideas; I'm sure you can come up with some great ones that work for you. Keep in mind a couple of important points.
Write in the same voice that you write your blog or books. Don't shift into "Official Newsletter" voice. They like you for a reason.
Make it visual. As always, break up the text with lots of visuals
Include a visual link to your books. It doesn't matter if you put that in the sidebar or in its own box in the main section. I prefer sidebar myself.
End the newsletter with a "Thank You" and "Please Share" message.
This should be enough information to get you started. It doesn't matter if you only have a handful of email addresses. You need to start NOW! Before long, your list will grow and you'll have thousands. Just like your writing, your newsletter will evolve and grow as time marches on.
How often should you send out your newsletter? It may seem daunting in the beginning, so I would suggest sending out a quarterly newsletter—one every three months or so. If you start getting results and enjoy the process, you can move to every other month. At the most, I would limit the frequency to one per month.
As a reminder, several services provide a platform for email marketing newsletters. As mentioned before, MailChimp offers a great service. Personally, I prefer Constant Contact but that may be because that is what I've been using for years. Advantages of these services include fantastic templates, great reporting, and solid systems to deal with SPAM issues.
You can find the full newsletter here. While you're at it, you can hit the subscribe button in the newsletter if you would like to continue to receive future newsletters. Feel free to copy what I've done or just use it for ideas.
Go ahead, try it. Take it one step at a time. The key is to get started now. Develop that list and create an awesome newsletter. Then you'll OWN your platform, and you won't have to suffer at the mercy of the changes on other social media sites.