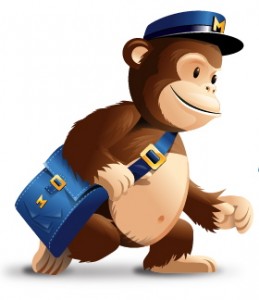 Let me say it right upfront: I hate emailed newsletters. Most businesses send them out far too frequently for my taste. I usually let them languish in my spam folder unless I'm in the market for something they're selling. But with Facebook limiting the organic reach of posts (unless you pay them), a newsletter is one of the few free ways left for us to be certain that our fans get word of a new release.
So when David Gaughran recommended MailChimp, I gave a lusty sigh, bit the bullet, and signed up. MailChimp is free for mailing lists with fewer than 2,000 addresses. The free service also limits the number of newsletters you can send out per year, but the limit is something like 800. I'm only intending to annoy people when I have a new book out, so I'm pretty sure I'll be okay.
So now I have to get people to sign up for my list. I've already got some, but I'd sure like to have more. So I'm going to make a widget to put on my website. (Before we dive in, please note that what I've got is a WordPress.org, or self-hosted WordPress, site. I'm not sure what the differences would be for a WordPress.com blog. If you do know, let us all know in the comments, okay? Thanks!)
MailChimp recently redesigned their site, and while it looks all streamlined and uncluttered now, they've hidden a few things – including the link to the signup widgets. I poked around for quite a while before I stumbled across it on the "Lists" tab. See the drop-down arrow next to "Stats" on the far right? Let's click that, and pick "Manage subscribers."

That brings us to this screen. I've gotten our own IU chimp to help me circle the "Signup forms" tab.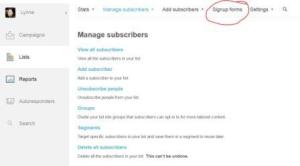 If we click there, we come here. MailChimp gives us a number of options. "Form integrations" goes to a WordPress.org page where you can generate and install a widget on your WordPress.org site. That's the kind of site I've got, but I always feel like the WordPress.org guys are speaking Greek, or maybe Urdu. So instead, let's pick the pretty blue icon labeled "Embedded forms."

Before we leave this page, I want to point out the link for the Facebook signup widget, which I already have on my fan page. MailChimp also now has a tablet form, which I think would be terrific for book signings.
So here we are on the "Embedded forms" page. We've got four options for the look of our signup form: Classic (lots of white space), Super Slim (just the email address box), Naked (no fancy formatting), and Advanced (which scares me, so I'm not going to click it). Once we decide on the type of form we want, it's pretty straightforward: any changes we make on the left will show up in the preview box on the right (although it might take a sec, depending on the speed of your internet connection). I'm now done tweaking it, so I'll highlight all the hash in the "Copy/paste onto your site" box, right-click, and select "copy."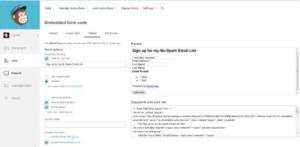 Now we get to load the code into my site. I'm going to pick the "Text" widget. I drag-and-dropped it to my primary sidebar, opened the widget, added my own headline ("No spam. No, really."), pasted in the hash, and then hit Save and Close.

And…done. Here's how it looks on my site. You'd totally sign up for that, right?