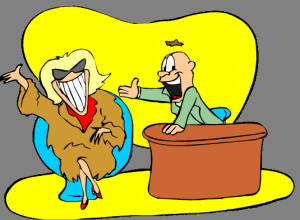 When we first started Indies Unlimited, one of the regular features here was the author interview. Authors love to be interviewed. Unfortunately, not a whole lot of people love to read author interviews. We like to do stuff that moves the needle, so to speak. Once we realized the interview features were not getting a lot of views and did not seem to be moving books for authors, we discontinued the feature.
Not to say interviews don't work at all or ever, but the return on investment is often quite small for both the interviewer and the subject of the interview.
The day your interview goes live, you post anywhere and everywhere, "I was just interviewed over at Bloggety-Blog." You are Facebook friends with zippity-zillion other authors. How many came over and left a comment or question on the interview? How many instead just commented on your Facebook status, "Great job," or "Congrats"? How many just *liked* the Facebook post?
Does it matter if your author friends don't look at your interview? Probably not. After all, while it is nice to have the moral support of other authors, what you really want is to attract readers. The question is, do author interviews do that?
Here are some things to consider:
I think the unspoken hope is that an interview will make a splash bigger than the pool into which it jumps. While it is theoretically possible for anything to go viral, it is less likely if you are doing an interview with a weekly blogger who has a small following. Small pool = small splash. Unfortunately, big pool ≠ big splash. Blogs with large followings generally post a lot of content. You may not be "on camera" long enough to raise an eyebrow. Worse, when sandwiched between other items, you may end up being overshadowed by the hot breaking stories of the day. Yes, it will be on the day of your interview that Hugh Howey is guest posting there, or Amazon decides to exclude all titles that include the word "Chronicles."
You are under no compulsion to accept every request to do an interview. Check out the blogs first. Look at how often the posts go up, how many comments the posts generate, the general tone of the blog. Some blogs may not be the best fit for you, even if the blogger is a Facebook friend. Let's say your friend is a horror author. She mostly posts horror shorts and interviews with other horror authors. If your book is a sweet romance, you may not find a particularly welcoming audience there.
Take a look at the questions. That will give you some sense of the kind of interview you'll be facing. Personally, when I see a question like, "What's your favorite color?" my hopes flag. I have never wanted to know this about anyone. Well, maybe if I was going to buy them a sweater. So, if the questions are boring, the interview may be boring too.
Look at some of the other interviews. Yes, I know, other people's interviews are boring. Just do it. It will teach you something about the interviewer and what you might expect. It is a pet peeve of mine to read an interview wherein the interviewer not only asks the questions, but answers them all as well. The interview should be about the guest, not the interviewer. You've probably seen some of these:
Interviewer: What is your favorite color?

Subject: Red, I guess.

Interviewer: That's interesting. I like red as well. I incorporated several shades of red as a subtextual theme in my latest book, Red is the Morning, which is available here: RedIsTheMorning.com
Try to get a feel for the type of interviews the host generally conducts. Both you and your book need to be in the blogger's wheelhouse for the interview to work really well. Stuffed shirt + lovable goofball might make a great sitcom, but it's a disaster waiting to happen where interviews are concerned.
Consider the level and frequency of exposure you want. Don't just go wherever they'll have you. Pick your timing and venues. Make sure you have something new or interesting to say. Yes, you want and probably need to be out there, but you also want to avoid brand fatigue. If you are just saying the same things over the course of multiple interviews, people will tune you out.
On a strictly personal note, I no longer do authors interviews at all. I do not like talking about myself, my life, family, pets, and I hate thinking about what kind of tree I'd be if I were a tree. I have not found author interviews to be helpful. That doesn't mean you won't. As they say, your mileage may vary.
Will following this advice ensure your success? Of course not. It doesn't work that way. You take chances and sometimes it pays off. If I've been of any help at all, you were probably in worse trouble than you thought.