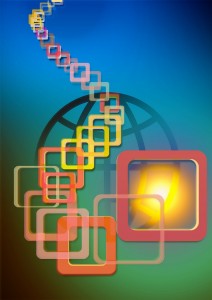 Link building is a method used to increase visibility and improve your search rankings. Without getting into a lot of mumble jumble, search engines examine the links to and from your site to assign it a certain ranking. Links aren't everything in search engine optimization (SEO); however, it accounts for a large percentage of weighting in search results as shown in this survey by MOZ.
If you are interested in growing traffic to you blog or site, growing the link profile will gain attention, traction and traffic from search engines. In addition, the strength of the link plays a big role as well. Spam hits in your blog "comments" do not help in establishing links that matter (which is why you have a "nofollow" option in your settings.) Links acquired from your target community, such as indie writing or publishing, matter more than off topic links.
How do we go about link building? Here are the top ten basic methods to build links and improve your site's visibility.
1 . Create a blog. You've heard it all before, but here's another reason to blog. Creating content on a consistent basis allows you to attract links and to send links out. Each time you share via social media platforms, you are establishing a link presence.
2. Create an RSS Feed. If you are running your blog on any of the major platforms (WordPress or Blogger) you already have an RSS feed. Make sure you have an RSS footer plugin (it adds a link to your blog after every post) and make sure you include links to other pages in your posts. Both of these tactics will enhance your link building and increase the credibility of your links.
3. Internal Links. In your blog posts and on your website, internal links are very important for link building. Make sure that you link current posts to content in previous blog posts. Not only will you attract a fresh audience to other content, it will improve the integrity of your links.
4. Profile links. Nearly every community you join allows you to set up a profile. Including links in your information for relevant opportunities will increase your link building. Notice how most comment sections on blogs ask for your website/blog address? It's not because they are trying to promote you. It's because they are building their linking.
5. Ask for them! Most sites have options such as "Blogs I follow" and the like. Once again, this process is for link building. If you know someone who has a quality blog in your industry, you might want to send them an email asking them to link to you.
6. Submission. The old school included article submission sites like Ezinarticles.com. This method falls low on the value monitor. However, Web 2.0 sites have more value, especially with original content. A good example of this type of site is Squidoo.com.
7. Press Release Submission. This tactic has some benefits in link building and more importantly, has benefits in your overall marketing plan. KS Brooks has posted about this in the past and you can find her Press Release Mania post here.
8. Company Directory Submissions. "But, I don't have a company?" As long as you have a website, you can typically submit to the directories. If you have a local business directory, check it out and get a link on there. Many times, those are high quality links and the search engines will assign it a higher ranking.
9. Writing testimonials and reviews. Yep, if you've filled out a profile with a link, then each time you post a review you may get a link in return.
10. Creating Stuff. Everyone loves badges. People love to show off their badges on their website, so let's give them what they want! When creating badges, embed a link back to the awards page or main page of the website. You can also develop icon sets and widgets. Anything that people want to show off will help you build links.
There you have it, ten FREE ways to build links. And this just scrapes the surface. Of course, there are hundreds of paid ways to build links. For our purposes, most of them are unnecessary.
Should you be making a conscious effort in building links? Yes and no. Many of our daily activities build links. However, if you search for your name, blog, or website and it doesn't fill up the front page of Google, you might want to make a concerted effort to build links. Before long, you will rise up the search results and your links will bring visibility and credibility to all your hard work.