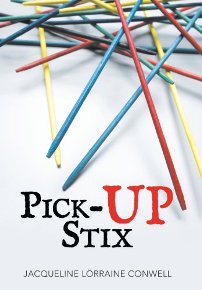 Pick-up Stix
by Jacqueline Lorraine Conwell
Genre of this Book: Fiction
Word count: 61, 880
Things were going well for Alora-with the exception of her stagnant relationship with Jordan. She was hoping that her usual beach ritual would bring something to fruition and save her from her current situation. But with their junior year of college approaching, her hope was starting to feel like a pipe dream. Little did she know, her beach ritual wasn't in vain … For what felt like an eternity, James had waited patiently for Alora's toxic relationship to dissipate as he kept a safe distance. He didn't know how much longer he'd be able to stand idly by, when without warning, his patience paid off. Alora's situation took a turn for the better from his perspective, which finally gave him the chance to step in and help Alora start fresh. But soon after James was introduced to her, he realized that swooping in to save the day isn't always as easy as it seems.
This book is available from Amazon and Barnes & Noble.
Jacqueline, how did you come up with the title for your book? Does it have any special meaning? 
The title of the book came from the situation going on in the book between the two main characters.
Who was your favorite character and why?
I'd have to say they're all my favorite characters. They've all been with me for so many years in stories that I've written before I actually published a book that they grew on me.
Does your book have any underlying theme, message, or moral? 
I didn't purposefully put an underlying theme, message, or moral in the book. But if the reader can pull something positive from it, then that's pretty awesome.
What would/could a reader or reviewer say about this book that shows they "get" you as an author? 
They could say that they're able to relate to one or more of the characters to some degree.
Give us an excerpted quote from your favorite review of this book: 
"This is book two, and is just as good as book one." (Amazon.com Review)
Where can people learn more about your writing?
Facebook – The Toy Box Series