As the mother of two young children with limited writing time I need to make sure the time I do get is focussed. My goal is to produce six books a year. I feel like this is realistic for this stage of my life. I have one son in school and the other attends four mornings of kindy a week. Altogether, I probably get about 15 hours a week as long as no one is sick and there are no unexpected mishaps (which basically never happens). So let's reduce this to 10 hours a week of pretty decent writing time.
In order to meet my goals I have to work hard and stay on task. It's so easy to get distracted by Facebook and emails and sometimes finding the motivation to just sit down and write what I have planned can be really hard. (Kudos to Martin Crosbie and his 1,000 Words a Day Project!)
I have had to fit work in around two school holidays that have happened very close together thanks to Christmas and Chinese New Year (now that we are living in China). I have a family first policy, which means I try very hard NOT to write during holiday time. For my last writing project I managed to finish all my planning prior to Christmas, which meant I had three school weeks to write my first draft before the second lot of holidays began. I was determined to get it done…and you know what, I did.
One thing that really helped me achieve my goal was a new website I discovered called myWriteClub. This website is still in beta stage, but I signed up thinking it looked like fun and could really help motivate me.
This is how it works… you sign up (for free) and set yourself a goal. You can either choose chapter count or a word count. I put in 60000 words and set my deadline. Each time I did another block of writing I would add up my new total and punch it in. The website graphed my progress and told me how far through I was percentage-wise. I found it really thrilling typing in my word count each day and feeling this great sense of achievement.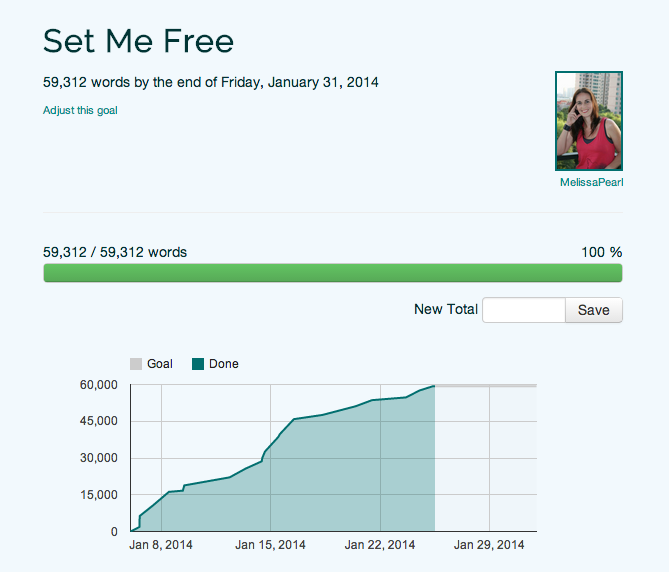 The other cool thing about this site is that you can connect with other writers on the site and watch their progress. So I have been watching three of my writing friends complete their manuscripts, too. Each time they adjust their total I get alerted and I'm able to go online and comment on their progress. It's been really fun cheering each other on…and once again, very motivating.
As I said, the site is still at a beta level and I can see a few ways it could be improved. I'd love to see a few little additions made, but I'm sure this will come with time. It's a great start though, and this simple format definitely helped me reach my tight deadline. I will most certainly be using it again for my next project.
Here's the link if you'd like to check it out: https://www.mywriteclub.com/ and here's the link to find out a little bit more about how it works: https://www.mywriteclub.com/beta/about
If you do sign up, please look for MelissaPearl, we can follow each other's progress and have a little fun!