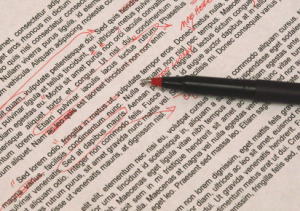 I have a touch of OCD, not debilitating, just annoying. One of the milder rules it makes for my life is the necessity to finish one book before I'm 'allowed' to start another. I suffer terrible guilt if I leave a book unfinished but it does happen, usually because I'm reading a first draft, not a finished product. I sometimes read reviews on Amazon that say there were some editing/writing/grammar (pick your poison) problems with a book but the story drew the reviewer in anyway…which might be fine for that reader but it won't work for me.
It amazes me that some authors seem content to appeal to a minority of readers. One more edit or a bit of advice-taking and I might go on to read everything else they've written, instead of moving on. I know criticism is rough, so here's how I learned to take mine on the chin.
I am on my third editor. The first just proofread my book and told me it was great, which did me no favours because I knew it needed work. Number Two demolished it completely. It had to be written his way and not mine. The book lost my voice and I hated him for it. Everything stayed resolutely as it had been before, because clearly I knew best after all.
My beloved third editor explained some of my little tics and habits to me. Things I didn't know I did—such as starting a paragraph in the past tense and bringing it into the present. 'It's not exactly wrong,' she told me, 'but it's tiring and annoying to read all the time. Try changing most of them and maybe leaving one or two when you can really justify it for emphasis.' She did the same with my habit of breaking the fourth wall for fun. This had become a lazy trope and I should only do it when I had a compelling reason. She also told me to add more dialogue and lose the tags. Apparently my characters came alive when they spoke their own words, leaping off the page in a way they just didn't when I described them. Of course, she was teaching me 'show not tell' but in a way that made me feel good about my work.
I listened and learned and my writing improved. I have plenty more to learn but this editor taught me that I don't always know best, people who understand and love my voice know just as much, sometimes more.
Now, I quite often see this sort of advice given free in an Amazon review, and an author who gets huffy about it. But really, who wouldn't want to know?
These days there are three specific issues which make me throw a book across the room (metaphorically for the e-versions) and guess what? They are exactly the things I had to learn the hard way.
• Mixed up tenses! I still do it, but I seek it out with the guided missile that is reading aloud. Please, please read your book aloud to yourself, this is one of many things you can pick up on.
• Dialogue that describes the plot instead of illuminating the person. If you are tempted to add all manner of dialogue tags, you are using it to tell me stuff. If you want your characters to be real in my head, just let them speak, I'll do the rest.
• 'Seeing the strings'. As soon as I know you are rewarding or punishing a character because you do or don't like them, you've lost me. It may be therapeutic for you to make the school jock come to a sticky end, but I have to believe he did it to himself.
If a bad review has no detail in it, or hates something you chose to do for a reason, feel free to ignore it (best not to abuse the reviewer though, that never ends well) but if it contains free editing notes, you might just want to take another look at your work. Some of us pay good money for those observations.
My pet hates are just that, personal peeves. There are others of course, and plenty of people who don't mind things that I can't abide, but the moral of today's little rant is: if your reviews contain constructive criticism your book might not be finished.
Next time, I'll take a look at the pet editing peeves lurking in the hearts of the rest of the minions.