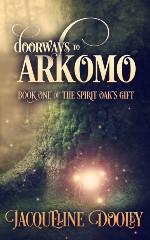 Doorways to Arkomo – Book 1 of the Spirit Oak's Gift
by Jacqueline Dooley
Genre: Fantasy
Word count: 67,000
Within Arkomo's Four Kingdoms, one hundred princes are raised in total seclusion, preparing for the Departure—a sacred ceremony that will finally allow them to live freely among their people.
But Sorel, Arkomo's only princess, fears the Departure isn't what it seems.
One night Sorel opens a magical Doorway into a strange world—the place she calls Hospital. There she meets 11-year-old Grace Woodward who is desperately ill. Hopeless and about to give up, everything changes for Grace when she meets Sorel and learns about Arkomo—a world that once only existed in her imagination.
Grace and Sorel embark on a journey to save the Princes before the winter solstice—the night of the Departure. With Grace growing sicker each day, and Sorel dangerously close to being discovered, they'll both need a miracle to survive
This book is available from Amazon, Smashwords, and Barnes & Noble. Continue reading "Book Brief: Doorways to Arkomo"