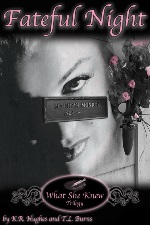 Fateful Night
by K.R. Hughes and T.L. Burns
Genre of this Book: Historical Fiction
Word count: 70,154
Did Marilyn Monroe commit suicide? Did someone get away with an elaborate plot to murder the famous sex goddess? On that "Fateful Night" in August 1962 find out what may have happened to her and why she was killed. Many argue that she was involved in way too many secrets from different factions of the world. She was a smart woman who could play the dumb blonde to attain her stardom yet she unwittingly learned of conspiracy plots and political threats that would not only end her life but that of the current president, John F. Kennedy.
In this fast paced suspense every major player of the early sixties is involved, from the world politicians, to the Rat Pack, to Hollywood, and the mafia. What if Marilyn Monroe had lived and what if what she knew could have saved JFK?
Fact or fiction? What if….
This book is available from Amazon. Continue reading "Book Brief: Fateful Night"