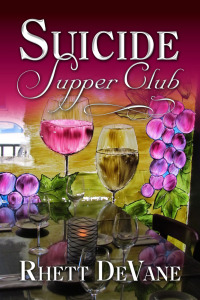 Suicide Supper Club
by Rhett DeVane
Genre: Mainstream contemporary fiction
Word count: 86,300
In the Deep South, the grinding summer heat is enough to make people stupid. Four small town Southern women—each with distinct reasons to consider her life total crap—band together to forge "the easy way out." But life has a way of turning out opposite of misdirected plans.
Abby has no husband, no children, no living kin, and a painful family secret. Loiscell is a two-time breast cancer survivor facing recurrence with dwindling faith and courage. Sheila is a meek abused wife hiding behind a religious, volunteer-queen veneer. Estranged from her only child, Caroline "Choo-choo" Ivey desperately misses her late husband.
As the relentless summer heat continues, conditions deteriorate for the women. Initially in jest, they propose group suicide: a nice meal, followed by a quick death courtesy of a paid assassin. Choo-choo offers to pay, and Sheila figures a way to enlist her husband to acquire a contact name. Then plans go haywire.
The Suicide Supper Club was a finalist in the 2012 Florida Writers Association RPLA contest. The Suicide Supper Club tackles tough subjects—abuse, cancer, aging—but with humor. In the South, humor is as essential as breathing and often filters life's harsh realities.
This book is available from Amazon. Continue reading "Book Brief: Suicide Supper Club"