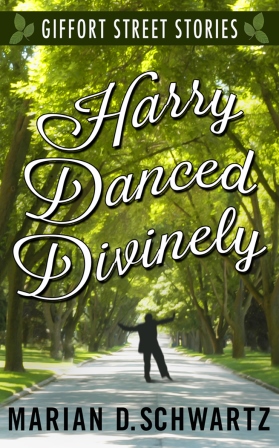 Harry Danced Divinely
by Marian D. Schwartz
Genre: Literary Short Stories
Word count: 73, 606
There were some things Lillian Levinson couldn't say, even to herself.
In the collected Giffort Street stories, you'll enter seven gracious homes on an elm-lined street. You'll meet the Stan and Adele Heussler, whose marriage begins to fall apart after they buy a magnificent antique bedroom set; Dale Kenway, who can't tell anyone the reason he doesn't want to be called a hero; Saul Penner, who realizes that the first neighbor he meets after he moves in is a bigot; the Danahy family, who are battling each other over the Vietnam War; and Bernice and Arnold Whittaker, who are unaware of how their trusted nanny is shaping their daughters' lives. In the title story, Harry Danced Divinely, the lack of a tea bag makes an elderly Jewish woman decide to teach her spoiled adult son a shocking public lesson.
The stories Harry Danced Divinely, An Authentic Hero, Neighbors, and The Queen Anne Bedroom Set are exclusive to this book. A Perfect Nanny and the novella War Zone, which are available as singles, are also included.
This book is available from Amazon, Smashwords, and Barnes & Noble. Continue reading "Book Brief: Harry Danced Divinely"