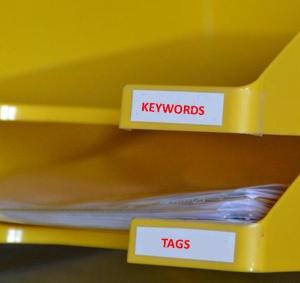 What is the difference between a keyword and a tag? That's a very good question. Theoretically, they are the same thing. Since most of the time this question is being asked from a blogger's standpoint, that's how it shall be answered. And I'll be using Indies Unlimited as an example to make it easy to follow.
The incredibly simplified answer to the question is: keywords are used to find things via search engines; tags are used to find things within your own blog. So, you would use keywords to help label your article so when people search on Google, they hopefully use the words in your article (or in your article's keyword Metadata). Just so you know, metadata is "a set of data that describes and gives information about other data." Thank you, Wikipedia. By the way, did you know Wiki has a series of pages on George Clooney? Anyway, your keywords make up a set of data that describes the information in your article. Got it?
Tags also describe your article, but they do it more like an internal filing system, if you will. About a year ago, the Evil Mastermind wrote an article about using keywords in book titles. Let's say that article wowed you (of course it did!) and you want to read other articles with similar content at Indies Unlimited. At the bottom of the article, under the share buttons (which you always use, right?), you will find this: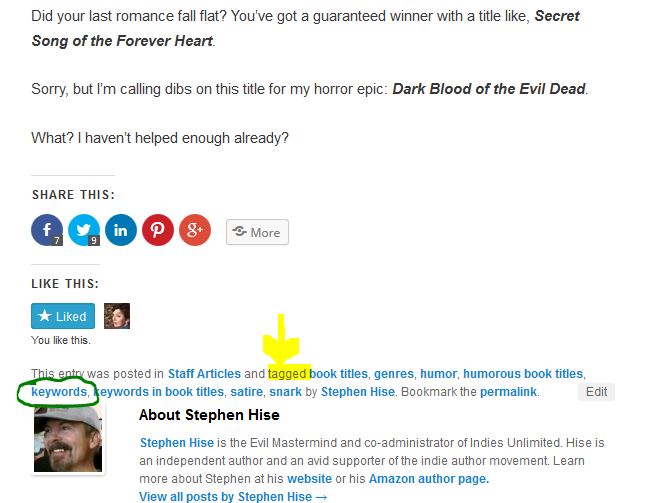 See? It says the article has been TAGGED (highlighted in yellow) with those subjects. If you wanted to read other articles also related to keywords, you would click on the word circled in green. That will take you to a search results page for that TAG: https://indiesunlimited.com/tag/keywords/.
One major way in which tags differ from keywords is that you don't want to use too many variations of the same tag. For keywords, you can go hog wild with misspellings, synonyms, and even minor mentions. For example, based on the content of this article so far, I could go with keywords "keywords, tags, Evil Mastermind, metadata, share buttons, difference between a keyword and a tag, Wikipedia, George Clooney " so that folks searching on Google using those terms might see it. Yes, the George Clooney bit is a little slimy, but since he's mentioned in the article, he's fair game. Searching within your own blog, though, do you really want all those extra subjects cluttering your tag cloud? I think of tags like a file folder for articles. Each folder (tag) holds the articles that fall under its subject. Just think if you had one folder for every keyword – you'd have so many folders, you'd never be able to find anything. And anyway, as good-looking as he is, this article really isn't about George Clooney, so you wouldn't want to tag it as such.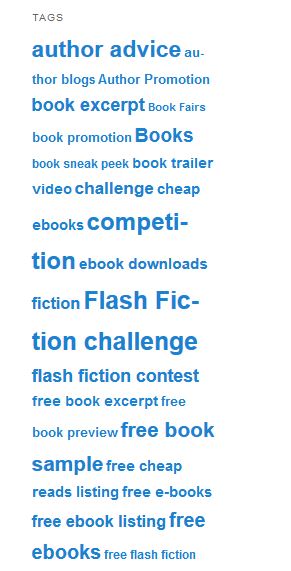 Tag clouds are another reason to be a little more particular about your tags. If you have a billion tags, then your "tag weight" is going to be very light. Lots of sites use tag clouds, actually. They're optional on most blogs (we use one here on Indies Unlimited), and you may have notced them on Goodreads. If you scroll to the bottom right of any page on IU, you will see ours (see screen capture at right). See how some of the phrases are larger than others? That's because those tags have the most articles attached to them. Supposedly, those tags register as keywords in search engines, and the biggest/heaviest tags will get the best visibility for you.
We learned the hard way about being a little more particular with tag usage. When we introduced the "KnowledgeBase," we discovered there were like a gazillion tags including, but not limited to, 2004 Stanley Cup, RBIs (am I sensing a sports theme here?), just the word "effort," and 36 various terms containing the word Amazon. Little by little, as we have time and as we come across them, we're going through the KnowledgeBase and eliminating those tags that just don't add value to the search function. If you produce a lot of content and don't want to deal with a big mess like this later, think about the focus of your blog and which tags make the most sense for people who want to search your articles.
Want to know more about keywords? Well, just go to the bottom of this article, under the share buttons (that you're going to use, right?) and click keywords. That TAG will get you where you need to go.