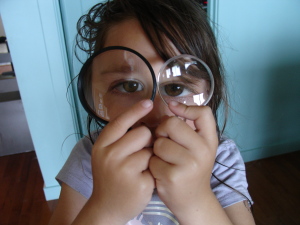 Those of you who have Facebook pages or read Jim Devitt's posts probably know that the social media giant is showing a ridiculously small percentage of your fan page posts to your readers, and that this percentage has been dropping lately. Right now, going by an average of my last few posts, I'm reaching about 4% of my fans. Which is pretty sucky. Even if you "like" a page, Mark Zuckerberg and friends have drafted an algorithm that combines newsworthiness and reader engagement over time into your "EdgeRank," a rating that decides what will show up in your feed and what gets jettisoned. Some have said that the concept of "EdgeRank" is dead and it's not even worth your trouble to hope for too much engagement from your posts unless you buy ads or shell out for "sponsored posts."
Some social media experts think there's still a way to work it. We had a great guest post about some of the ways Shawn Inmon has improved his stats. And at least since the end of April, when it was announced in a press release from Facebook, there's a move afoot to reduce what FB considers "unengaging" posts: frequently shared content (like memes), like-baiting (overtly asking for likes, clicks and shares above and beyond what a post might normally receive), and spammy links. So what does this mean for you?
Depending on what you post, it could mean fewer people getting your updates. With a little attention, you can craft fan page posts to take advantage of some new research and attempt to resurrect a failing page.
First. Look at the content you're sharing. Is it something that will engage your particular audience? If you can't always post original content, research suggests that sharing popular, current content from popular sites (like big news sites) will get you seen more frequently.
Second. Craft the post to your greatest advantage. Have you noticed that images across nearly all the social media sites are getting bigger? Blame the iPhone people. Blame popular culture and our declining attention span. I'd love to have a discussion about the chicken-or-egg-ness of this one day, but right now, what gets shared? Research claims it's big images, links that don't have a lot of text, and status updates that engage readers without hammering them over the head with too many pushy "calls to action." Basically, as social media maven Martha Frankel once said, "Facebook is like Jersey Shore." Like Snooki, we're overexposed, and we don't want to work too hard.
How to craft a status update that has a better chance of getting seen:
1. On your Facebook page status window, paste the link you want to share. Since I live near Dylan's former home in Woodstock—and one of my books is set there—for this example, I'm sharing a post about a recent auction of his early drafts of "Like a Rolling Stone." (He tried to rhyme "vermouth" with something, and it really didn't work.)
2. When the link pops up, DON'T hit "post" yet. We're going to play with it first.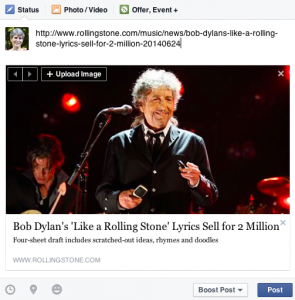 3. If applicable, find a more engaging image than the preview shows. Make sure it's optimized for Facebook sharing. According to the 2014 layout changes, optimal size for "shared link thumbnails" (that you want to show up nice and big on your fan page) is 484px by 252px. Yeah, it's kind of confusing. Jim Devitt described some of Facebook Page's new moves on his blog.) The image that came with this preview link happens to be the perfect size, so we'll leave it. If you want to choose a different image, click "upload image" in the top left of the photo preview.

4. Delete the preview text at the bottom by clicking on it and then deleting. Recent research suggests that fewer people are reading it. Especially younger people—something to keep in mind if that's your audience. You can also use this handy feature to correct typos in the preview text or even write your own.
5. Craft a message for your status that is engaging but does not have an overly pushy "call to action." Emoticons are fun to toss on there, if appropriate. Facebook even suggests  adding relevant tags to your status message, to draw in those who might be interested in what you're sharing. For example, I could have added a tag for Bob Dylan's page or The Band's page or something about Woodstock. But the data is still out on that score. Just as long as you keep your audience in mind when you're drafting a message. Coffee is a popular topic on my page, for some reason. So are grammar jokes. Watch your Insights for a while to see what kind of posts get the most attention on your page.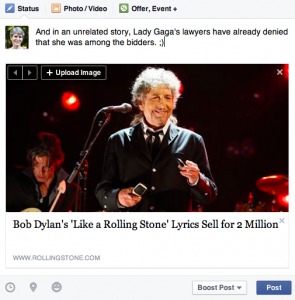 6. Monitor the results.
If you've done all this, but you're getting a big fat goose egg, some experts suggest deleting the post, because it could work against your rating.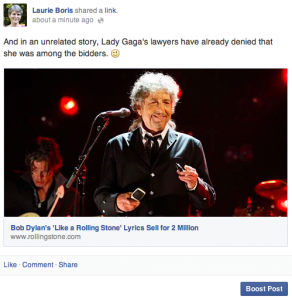 SOS For Your Facebook Page
Have you been neglecting your page? If you're seeing lousy stats, try this: find some generic, current, popular posts from popular websites. Post two or three a day for a while, and monitor your results.
In general, we around the gruel pot have found that these measures are hit-or-miss at best. My experiment is still ongoing, and some posts have drawn more than others. At some point, I'll report back on the progress. Oh, I hope there will be progress. But why not give it a shot? I mean, can I get any suckier than 4%?
Has anything worked for you to get your visibility up without paying?