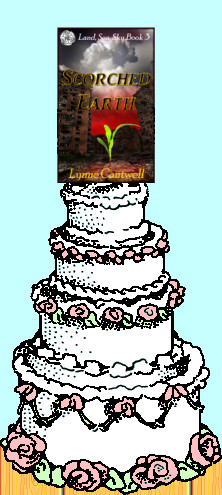 If the wedding planning industry (and make no mistake – it's an industry) has given us one useful idea, it's this: the idea of a checklist leading up to the Big Day. Say what you will about some of the more outrageous line-items (personalized matchbooks?), but it's a useful thing to have as you work your way through a complex undertaking with a lot of moving parts, like a wedding. Or a book launch.
I just released a new book, so all of this is fresh in my mind. Inevitably, I forget to do something in the effort to remember to do the thing I forgot to do last time. This time, I completely forgot about the ARC, so I had no reviews ready for launch day. Dumb, right? So I am making myself a checklist. Here's what I've got so far:
Two months to six weeks before launch date:
• Send WIP to editor and beta reader. Ask them to look for specific things. Give them a deadline for your WIP's return.
• Mock up ARC.
One month before launch date:
• Make one more editing pass.
• Receive WIP from beta. Make changes or not, depending on their suggestions.
• Receive WIP from editor. Make those changes.
• Design cover, if this hasn't been done already. Don't forget the back cover for the paperback!
• Send ARC to reviewers, giving them your launch date.
• List book at Goodreads.
• Create book trailer and upload to YouTube. Put link on blog/website.
• Decide on marketing budget and begin contacting places for launch advertising, or hire a tour operator or publicist.
One week before launch:
• Final editing pass. Save as FINAL version of book.
• Format book for Smashwords according to the Smashwords Style Guide. Save as Smashwords version.
• Run Find & Replace on Smashwords version, changing "Smashwords" to "Kindle." Swap out Smashwords links to your other books for Amazon links. Save as Kindle version.
• Format FINAL file for CreateSpace: Change page size to 6×9"; remove all hyperlinks; change to prettier fonts; embed fonts in document; make sure all chapter titles are in Word's Heading 2 style, adjusting style as necessary; change to single-spaced paragraphs; change to full justification; format headers, including page numbers; click "different first page" in each section, so that headers don't show on the first page of each section/chapter; run Word's Table of Contents utility; add blank pages as necessary so that table of contents and first chapter fall on the right-hand page. Save as CreateSpace version.
• Upload respective Word docs to KDP, Smashwords, and CreateSpace.
• The following day, review CreateSpace proof online, uploading corrected version if necessary. Double-check that ToC page numbers correspond to the page numbers in your book.
• Add ASIN or ISBN to the book's listing at Goodreads.
• Create and send newsletter to fans to let them know about your new book.
• Plan Facebook launch party. Consider giveaways at Goodreads and LibraryThing.
• Blog about your new release and all the fun ways you've planned for fans to celebrate with you.
Launch day!:
• Buy any last-minute ads (Facebook? Goodreads?).
• Sit back, relax, and enjoy the kudos from your fans. You've earned them.
Anything I forgot?