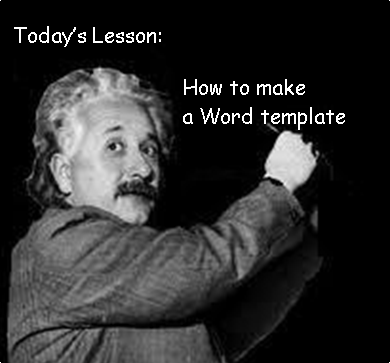 Last week, I showed you how to make Styles work for you in Microsoft Word. But wouldn't it be fabulous if you could just open a new document and have your styles already set up for you?
Sure, you can open an old document with the formatting you want to use, delete the original content, and add your new stuff – but then you need to remember to hit "save as" instead of "save" or you'll lose your original work. (Not that I've ever done that.) It would be safer to start with a properly-formatted blank document, wouldn't it?Of course, it would.
All you have to do is design a template and save it to the right place. Don't look at me like that – there's only a little nerdism involved. I've set up a template that I use when I start a new chapter. (For first drafts, I write each chapter in a separate document. I only combine them in a single file once the whole book is done, and then I add the front and back matter to that file. I have no idea why I do it that way; I suspect it's a holdover from the days when computers would crash on a whim and word processing software didn't do automatic backups for you every few minutes. We shall not speak of those dark days again.)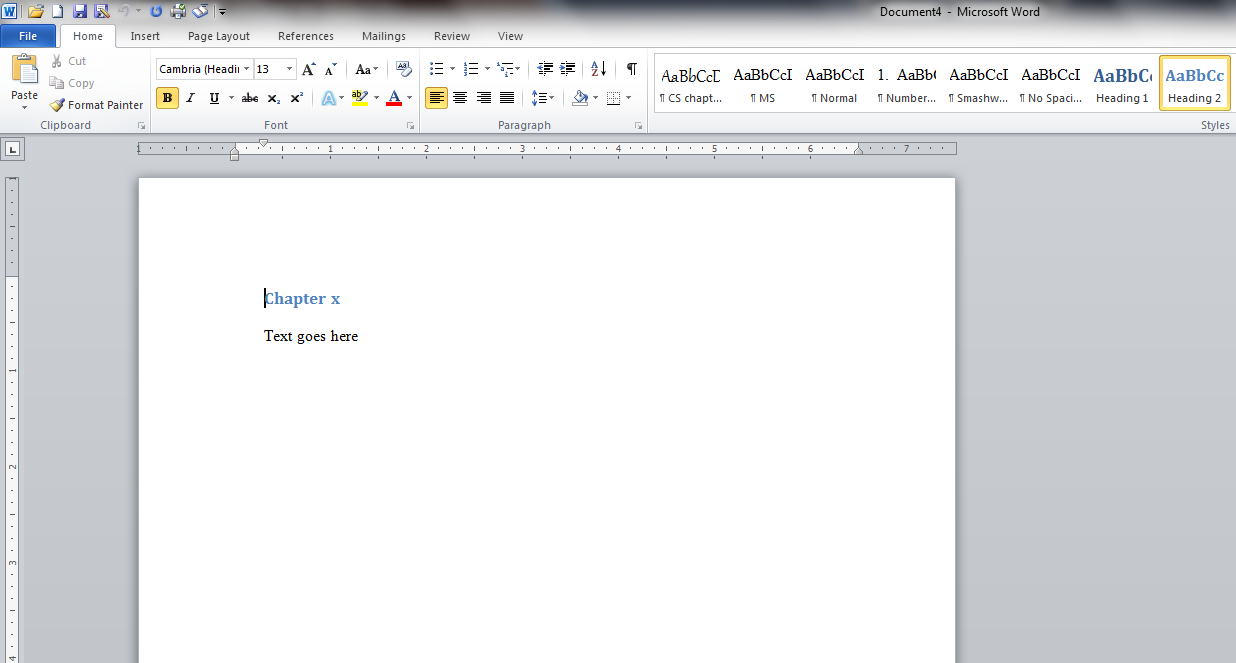 Just for fun, let's assume you want to do the same thing I've done: set up a template for new chapters. Here's how.
1. Open a new document by clicking File – New. This will bring up a standard-issue blank document.
2. Now add some dummy text and apply the formatting to it that you want your template to have. For mine, I created the chapter title by clicking on Word's built-in "Heading 2" style and typing, "Chapter x". (You could, of course, use "Heading 1" style instead. But I wrote one book that was organized into sections and then chapters, and I would likely use "Heading 1" for the section titles if I ever did that again.) Then hit enter.
3. "Heading 2" style includes a double-space after every paragraph, and since this is going to be my first draft, that's good enough for me; you might want to add in another blank line or two. It's up to you.
4. Once you have a suitable number of blank lines after your chapter title, and your cursor is where you would like the first paragraph of your chapter to start, click on the style you made for your manuscript paragraphs. Again, I called mine "MS", but you can call yours anything you want. Now type some dummy text; mine says, "Text goes here."
5. For fiction, that's really all you need, right? So now you're ready to save your template. This is where it gets a little nerdy – but only a teensy bit, I promise. Click File – Save As. Now you have to know what operating system you're running.
• If you have Windows 7, scroll to the top of the folder list. Under "Microsoft Word," click Templates.
• If you have Windows Vista, you have my condolences. Under "Favorite Links," click Templates.
• If you have Windows XP, under "Save in," click Trusted Templates. (And consider joining the 21st century. Windows 7 is fine, honest.)
6. Name your template the same way you would name any other file. I gave mine the prosaic name, "blank chapter." Now look for the "Save as type" drop-down box, click the arrow, and select Word Template from the list. Now click Save. Poof, done.
7. To use your new template, in Word 2007 and 2010, go to File – New. Under "Available templates," you'll see "My templates." Clicking on that will bring up a dialog box. Look for the name of the template you created and double-click. You're all set!
And if you have any other questions about how to do something in Word, put it in the comments and I'll do a post on it later.