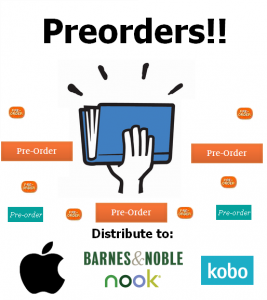 It's been about a year since Smashwords began beta-testing its preorder feature, and it's been live for everyone for six months, give or take. Mark Coker was excited enough about rolling out the feature to everyone that he even put together a PowerPoint presentation on leveraging it to your best advantage for your new release.
When I saw that PowerPoint, I got all fired up about using it for the release of Undertow in March. So I did a whole bunch of stuff suggested in the presentation: I uploaded the book file a couple of weeks early, set the introductory price low (99 cents), mentioned the availability of preorders prominently on my blog and Facebook page, stuck the info in a newsletter, and sat back and waited to hit the big-time on release day.
What I had missed in my excitement was that Smashwords doesn't take preorders on its own site. The preorder feature is only available for Smashwords books at Barnes & Noble, Kobo, and iTunes. And I sent everybody to Smashwords.
I did end up with a few sales at Smashwords from people who bought the book on launch day. Thank goodness I was smart enough to include the launch date in all my posts and in the newsletter. I also pushed the date in the run-up to my release party on Facebook – as well as the erroneous preorder information, thereby looking like a dope to all the party-goers when I explained that I had misunderstood how the process worked.
But as for hitting the bestseller list anywhere? Yeah, no. Didn't happen.
The whole process, and the result, was so underwhelming that I didn't try offering preorders when I released Scorched Earth in June. Now that I have a better handle on the process, I may try it again in the future. But it just seems so complicated. I want one link, you know? "The book will be released on X date, but you can click here, lock in your early-bird price of 99 cents, and it will be delivered to you on launch day!" Not, "The book will be released on X date, but you can preorder if you go to Retailer X, Y or Z right now…." I guess I could set up a one-click system myself with a page on my website with links to the all the retailers participating in preorders. But wouldn't it be nice if someone did it for me?
So that's one item on my preorder feature wish list: One click to rule them all. Another would be an automatic price increase function, so that I could set up a preorder (or even launch-day) price of 99 cents, and it would automatically pop up to list price the next day. I discovered about a week after Undertow launched that I had forgotten to raise the price at Smashwords. It would have been great if I could have just had Smashwords do it for me. Automatic price increasing is certainly possible; Amazon does it with both of the KDP Select sales tools. And it would seem to me to be a fairly simple thing to implement, although I admit that what I know about programming would fill a very small paper cup.
Speaking of the Zon, it doesn't do preorders at all, of course – or anyway, not for most indies. That's #1 on my preorder feature wish list.
Has anybody else used the preorder feature at Smashwords? How did it work for you?