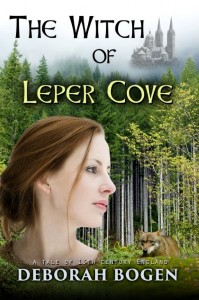 It's taken two years, but in the English hamlet of Aldinoch, sixteen-year-old Lily and her twin brothers have finally accepted their parents' disappearance. Although grappling with grief, loneliness and even guilt, they're sure the worst is behind them.
Lily is apprenticed to Alice, the village healer who cares for Aldinoch's sick and the lepers who live downstream. Her herbs and poultices save lives. But its early in the 13th century. Pope Honorius has just launched the Inquisition. Even the good and useful are not safe. When Alice is accused of witchcraft and imprisoned in an ancient dungeon, Lily and her brothers are forced into action.
The Witch of Leper Cove, the young adult historical fiction book by Deborah Bogen, is available at Amazon.com and Amazon UK.

Don't forget, you can cast your vote for trailer of the month on August 30, 2014 at 1 p.m. Pacific time.