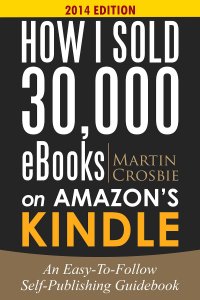 How I Sold 30,000 eBooks on Amazon's Kindle 2014 Edition
by Martin Crosbie
4.7 average rating from 61 reviews
Available from Amazon US and Amazon UK.

In February 2012 Martin Crosbie's self-published eBook My Temporary Life hit Amazon's top ten overall bestseller list. Amazon referred to him as one of their 2012 success stories in their year-end press release.
This easy-to-follow guidebook details the specific steps he took to find and connect with his readers. Plus, it describes how to adjust and tweak your strategy as Amazon changes their systems. There are a lot of self-publishing books out there. This is the one you've been waiting for.
Newly updated version includes:
How to maximize the return from your Kindle Countdown promotion
Lists of the current and most effective promotion sites (paid and free)
The secret to gain maximum borrows from Kindle Lending Library
Earn the most paid sales after running a free promotion.