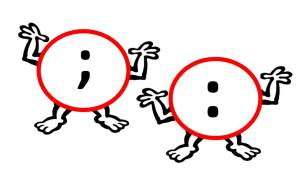 Although I/we've covered semicolons before once or twice, I don't think there's any harm having a little refresh of the much misused and confused semicolon and colon. Having just read a number of books in which the authors (and/or editors…and…guess what…in a trad-pubbed book, too!) have got the two confused, I thought it could do no harm to have another look.
There are two basic rules for the semicolon.
1.   Between two closely-related independent clauses, which are not joined by a conjunction (and, but, etc):
Lois and Yvonne went to the zoo at the weekend; they love animals.
The link between the clauses means that the semicolon can be used, although a full stop (period) could have been used if you were in any doubt or even a conjunction like 'as'. Remember that each of the clauses must be able to stand alone.
In this example, the semicolon should not be used.
Cornwall has a stunning coastline; great place to surf.
The latter clause cannot stand alone.
2   In a complicated list of many items, many of which themselves contain commas.
The meeting was attended by Stephen Hise, Founder; Kat Brooks, Co-Administrator; Lynne Cantwell, Contributing Author and Cathy Speight, Lycra and Cycling aficionado.
Just two golden rules, and you can't go wrong. The semicolon is useful to give the comma a bit of a holiday, but like all things in life, to be consumed moderately!
And now to the colon. The colon introduces a list or an explanation, related to the preceding statement.
I went to the sales and found lots of bargains: jeans, dresses, tops and a fabulous pair of Jimmy Choos.
I studied languages at school: French, German, Italian and Latin.
Homemade pasta isn't difficult: you just need really fine flour and a good pasta-making machine.
I wasn't too keen on Water for Elephants: the animal cruelty distressed me.
I hope that simplifies it. They both have their place, as they can provide extra clarity where a comma or period don't quite do the job. But don't overuse them just to demonstrate you know how to.  I have read a book in which there were more than 450 semi-colons…