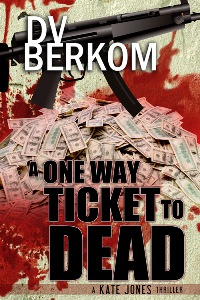 A One Way Ticket to Dead (A Kate Jones Thriller)
by D.V. Berkom
5.0 average rating from 15 reviews
Word count: 69,650
After years of running from her ex—a vicious Mexican drug lord—and his subsequent death, Kate Jones is ready to bury the past and try to piece together a new normal. But first there's a loose end to tie and it involves digging up old ghosts that are best left alone.
Unaware her actions have attracted the notice of a powerful enemy Kate is plunged into a deadly fight for survival, as both her life and the lives of the children of a man she once loved hang in the balance. And, with the possibility of an informant inside the DEA, she doesn't know who she can trust.
From the emerald green shores of Seattle to the lush Yucatán jungle and unforgiving Sonoran desert, Kate Jones must once again face her past…and hope she survives.
This book is available from Amazon. Continue reading "Saturday Book Showcase: A One Way Ticket to Dead"