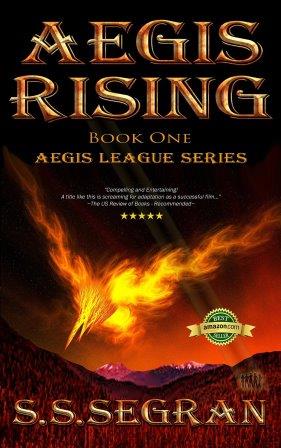 Aegis Rising
S.S. Segran
Categories: Science fiction, fantasy
Available from Amazon.
"A Plane Crash…A Hidden Valley…An Ancient Prophecy…A Cataclysmic Scheme."
Weaving through a spellbinding plot filled with fascinating characters, captivating imagery and compelling action, Aegis Rising will have you cheering and looking out for it's five unlikely heroes as they race to save the planet from a malevolent foe.
Excerpt:
"Is he still alive?" Tegan murmured.

"Barely."

Aari looked up at the Osprey. "We need to get him out of here. The plane's going to turn back soon."

"Take care of him," Jag said, an edge to his voice as he stood up.

Tegan caught a look in his eyes and knew something was brewing in his mind. "What are you—"

"Just get him to safety," he cut her off, turning to look at the plane. Without another word, he started to sprint in the direction of the aircraft. He heard his friends shouting his name but his mind was set and he was not turning back…

Sprinting at an inhuman speed, Jag's blurred figure tore across the mining site toward the plane as it swung back around. Leaping onto the roof of the steel building that housed the beasts and using it as a springboard, he bounded off and propelled straight toward the open ramp of the plane…
 What others are saying:
"A title like this is screaming for adaptation as a successful film, television show, or even a continual series of novels that young and old readers alike can devour and become drawn into with its mythology and entertaining characters." ~ Michale Radon ~ The US Review of Books.