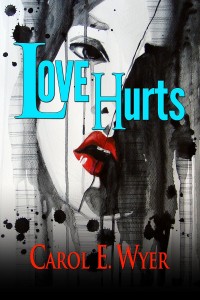 Love Hurts
by Carol Wyer
4.9 average rating from 7 reviews
Love does not always result in 'happily ever after'. It is a powerful emotion that, in the hands of a damaged soul, can be all-consuming, dangerous and even lethal.
In this collection of five short stories — some dark, some light-hearted — written by award-winning author Carol E. Wyer, we discover what happens when love takes over.
Be prepared for a rollercoaster of emotions.
This book is available from Amazon.
Excerpt from LOVE HURTS by Carol E. Wyer:
The boutique, Stylehouse, was the trendiest place in Solihull. People travelled from London and Birmingham to grab the latest fashions. Lauren was manager of the store, which was owned by two men who travelled all over Europe to design houses, snapping up items from new, highly respected designers like Barbara Casasola, Pedro Lourenço, and Alexander Wang, thus ensuring their boutique was the place to get the best outfits. It catered for the twenty- to fifty-year-old woman who had plenty of disposable income. It also had some outstanding pieces by well-known fashion houses like Dior, Yves Saint Laurent and Versace. Staff were given a generous seventy-percent discount on all unsold stock, and every salesperson was allowed to have two outfits free from the newest stock each season, provided they wore them in the shop.
Lauren was dressed in a Versace trouser suit, which, set off with Jimmy Choos and a stunning copper necklace, gave her an air of authority and glamour. One thing was for certain, Lauren was the perfect clothes horse. As manager, she was allowed three outfits per season, and she always got excited choosing her 'uniform' from the glossy catalogues Clive and Gerald gave her to thumb through.
Gerald appeared. "Okay, ladies, back to work. Fun time is over. Now, Sierra, if you don't mind, could you change that outfit on the mannequin in the window. I think we should showcase the red DSQUARED number. It is so glamorous. Reminds me of Audrey Hepburn, Grace Kelly and Elizabeth Taylor." He stood admiring the slim-fitting sheath and reminisced about the great actresses of the silver screen while Sierra totted about in her stockinged feet, preparing the window.
Sophie was examining a shiny pink nail. "I've just been telling Clive about you turning Sexy Steve's head. Clive agrees with me. We love you, but we think Stevie boy won't bite."
Clive glanced up from a box he was unpacking, straightened his cravat and issued Lauren a challenge. "Okay, lovely, I bet you my seat at the next Paris fashion show you can't make him ask you out."
Lauren took in a sharp breath. She had been dying to go to the Paris fashion week for years. She had hoped to go as a journalist. It would be the most incredible experience.
"Of course I can," she said in a fluster, thinking about the potential reward. "Better still, I bet I can make him fall for me."
"You're on. Make him fall for you, move in with you — or whatever — before Christmas and I'll give you my front-row ticket to the Paris fashion show, the after-show party where you can meet the designers, and you can stay in the best hotel in Paris, the Hotel de Crillon."
*****
The fire crew were having their photo taken beside the shining red engine when Lauren turned up to join the band of volunteers. She tried to blend in with the others, who were clad in various nightgowns and mop caps, or onesies. She was aware of the fact that she stood out and not in a good way. So far, she had managed to raise quite a few eyebrows especially among the women, some of whom had even tutted, and attracted the attention of an over-friendly Labrador dog, which kept slobbering over her soft UGG slippers. Steve and the other firemen were busy showing youngsters around the engine and posing for photos. Lauren jangled her bucket and smiled at people who gave generously. Steve didn't even look in her direction. In fact, none of the firemen seemed to notice her. They were far too occupied with small excited youngsters who wanted to try on the firemen's helmets and ride in the front of the engine.
She tugged uncomfortably at her pyjamas and wished she had worn something less silky. A nice, warm, fleecy, dressing gown would have been good. This wasn't the success she had hoped for. However, just as she was considering packing it in and going home, an elderly couple told her she looked lovely and dropped some money into her bucket. "Thank you," she called. The event was to raise money for a local hospice. It was a very worthy cause. Steve and the men were out of sight now. They had taken a group of children into the fire station. "Help St Mary's Hospice!" she shouted, rattling her bucket. She soon forgot the real reason she had gone along.